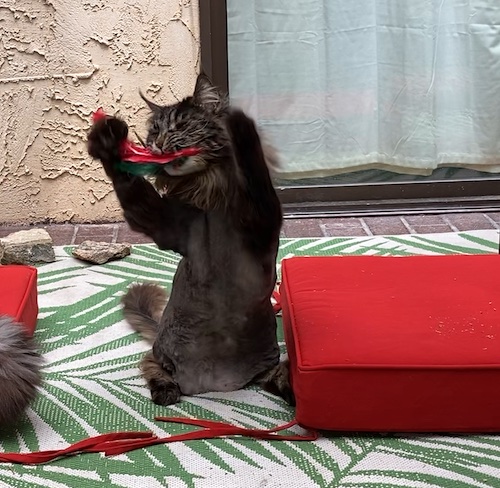 Keeping active physically has a lot of benefits for people. It helps your mind work better – you learn things more easily. Physical exercise helps increase your muscle mass and strength. It also tends to induce a positive mood or emotional state.
Exercising your cat can give your cat the same boost we get from physical activity. Unfortunately, just like us, it is easy for them to become couch potatoes.
My 16 year old, Athena, is the equivalent of an 80 year old person. She has developed osteoarthritis and chronic kidney disease. To help with the arthritis, I have provided her with steps to get places and litter boxes with lower entrances. This winter I bought her a heated bed which she really likes. I noticed, however, that she was spending an awful lot of time in this bed and not moving around as much.
Although heat increases blood flow and makes connective tissue temporarily more flexible, it also stimulates inflammation and swelling. So some heat is good for comfort but I wanted to reduce the inflammation associated with Athena's arthritis and cheer her up a bit!
Exercising your Cat – A good Rx
Exercise reduces inflammation: Your body's cells produce proteins called cytokines that regulate immunity and inflammation. Humans with arthritis who exercise produce more cytokines that reduce inflammation. Cells in cat's bodies produce similar cytokines so exercise can also reduce inflammation in cats.
Exercise strengthens the muscles that surround joints making movement easier and less painful.
Exercise improves mood, memory, reduces anxiety and helps the GI tract to function better.
The TAKEAWAY: Daily play (exercise) is good for cats of all ages!
Here are some exercises to work into your cat's daily play time. Make sessions short and positive and work at your cat's own pace.

More Please!: Holding a treat or toy above your cat's head, encourage him to sit up with his front feet off the ground for a few seconds. This is good for kitty's core muscles.
Catch the bird: A feather toy on a wand can encourage your cat to "stand up", engaging his core muscles.
Catnip/silvervine Roll: If your cat enjoys catnip or silver vine, by all means indulge her. The catnip response lasts less then 10 min and often involves rolling around, which is good for kitty's core muscles.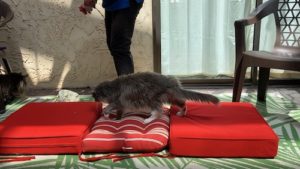 Balancing: Have your cat walk over an uneven surface such as a bed or several pillows. She will need to shift her weight to keep her balance, exercising her legs, core, back muscles and more. She can follow a feather toy, target stick with food on the end or a trail of treats!
Strengthen back legs: Following a string up the stairs or cat tree will put more weight on the rear legs. Alternate exercise: have kitty stand with his front legs up on some cushions or books so more of his weight is on his rear legs for a few seconds. Start low at first. Pet his head and reward him.
Strengthen front legs: Following a toy or string (slowly) down the stairs or cat tree will put more weight on your cat's front legs. Alternate exercise: you can use a soft towel or blanket around her lower belly to lift her hind legs, putting more weight on the front legs for a few seconds. Start in a stationary position. Work up to going forward. Head rubs and treats will make this fun for your cat!
Cardio! Do a little play with the laser pointer, wand toys or shoelaces. Make sure to put these toys away when the play session is done.
Exercising your cat will help her to be happier and feel better. Less pain and better mood translates to better relationships for your cat with people and other pets! Remember, this does not have to take a lot of time: 10-15 minutes should do the trick!
Want to keep up with the world of cats? Click the button below and subscribe to The Feline Purrspective!