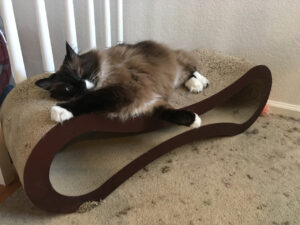 There are scratching posts, there are cat trees with sisal rope attached to the supports, there are cardboard scratchers of all shapes and sizes – which scratching post should you choose for your cat?
Unfortunately, there is no easy answer to this question.
cats and scratching: the "purrfect" scratching post
A recent study published in Applied Animal Behavior Science video recorded 36 adult cats to identify the cats' scratcher preferences.
Adult neutered male cats preferred a standing scratching post over an S-shaped one – spayed females did not show a strong preference here.
Scratchers with sisal rope and cardboard were used more often than those covered with sofa fabric.
Catnip and silver vine treated scratchers were favored over those treated with artificial pheromones.
In this study, the catnip, silver vine and artificial pheromones were hung in a sock on the scratcher. Would it make a difference if the artificial pheromone was applied directly to the scratcher, mimicking how a cat would deposit these scents?
Still another study (2019) recruited 8 week old kittens from a shelter population. The kittens:
Preferred cardboard S-shaped scratchers over posts with rope.
Adding catnip to the scratchers did not attract the kittens (this is not surprising – the catnip response does not show up in kittens until they are 3-6 months old.)
A third study, this one an internet-based survey of 4015 cats in 39 countries, found:
Rope was more frequently scratched than cardboard or carpet.
Cats scratched more often when the post was a simple upright type or a cat tree with two or more levels, at least 3 ft high.
Unwanted scratching decreased as the different types/styles of posts increased in the home.
This survey concluded that the "Ideal Scratching Post" would
have sisal rope
have vertical scratching surfaces
be more than 3 feet tall
have two or more levels
have a base of 1-3 feet
So, should you run out and purchase one of those, large multi-level cat trees? Will this take care of all your scratching issues? Let's take a look at four different cat scratching stations in a 4 cat household.
Station 1: Multi-level Cat Tree with Sisal posts for scratching

This tall cat tree is located in the interior of the house away from doors and windows. The younger cats (6 years), Zelda and Gus, use this tower to snooze on the upper levels or to get to the tops of the kitchen cabinets. Although it does meet the recommendations for the ideal scratcher, the cats don't scratch on this tree all that much.
Station 2: Single Post scratcher and cardboard scratcher

This very tall post (it is 41″) with sisal fabric is at the front door. It is popular with everyone, from the 17 lb Coon cat to the small senior at 8 lb. All four cats scratch before going out for a walk or when they sit to look out the window in the front door. The horizontal cardboard scratchers at the front door also see consistent use. The cats tend to use these with all 4 feet on the scratcher.
Station 3: Large cat bed with sisal scratcher

The sisal-covered base of this extra-large cat bed is tall enough for the large Maine Coon to scratch. This cat bed is located in the bedroom. It was purchased for the Maine Coon cat but has been taken over by 8 lb Athena, who sleeps in this bed or in her heated bed at the base of the scratcher. When she gets out of bed, she stretches and scratches on this scratcher. This is used infrequently by the other three cats.
Station #4: By a litter box
This is a single pole covered with sisal rope. This post sees a lot of use by all four cats.

In this household, location appears to affect how much a scratcher is used.
Cats scratch to maintain their claws, to stretch and to scent mark. Most scratchers are probably used for all three purposes. So, which scratcher should you choose? Experts recommend starting with the multi-level cat tree with sisal rope supports. However, cats are individuals and, if your cat does not take to this type of scratcher, offer different types and styles.
The Take Away
Have more than one scratching station.
Have a variety of scratchers.
Move them around and see where they get used the most.
Watch your cat's habits – try to pick a scratcher that you feel will be appropriate for your cat's age, size, and level of activity.
The next post will look at first aid for unwanted scratching – what you can do when your cat scratches where you don't want her to.