The Feline Purrspective
Hi there! Welcome to The Feline Purrspective!
My Name is Phyllis Meyer and I want to help you get the most out of your relationship with your cat. Cats are not small dogs nor are they little people in fur suits – they have their own social structure and behaviors. The Feline Purrspective is designed for you to learn more about the world of cats, to help you and your feline be the best of friends. I hope you will join me!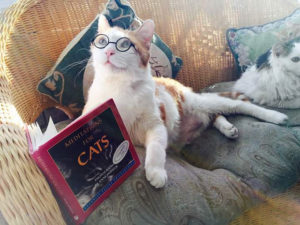 I would like to dedicate this website to all of my feline friends, in particular Niki-Maru, Snow, Rommel, Reno and Pumpkin who are no longer with me and who taught me so much about the "Feline Purrspective".
Who is that cat with glasses and book?
Niki-Maru was surrendered to CatTails Feline Health Center early in 2013. His owner, a pizza delivery man, did not have the resources to treat Niki's diabetes.
When he first came to Cat Tails, Niki walked on his ankles due to neuropathy caused by diabetes. A few months after insulin therapy was started, he began to walk normally.
Niki became our demonstrator cat
he would let people practice giving pills by letting them give him Temptations wrapped in Pill Pockets.
He assisted in presentations for owners of newly diagnosed diabetic cats, letting them practice subcutaneous injections and measuring blood glucose (He did require a payment of chicken baby food for his services).
Niki was dedicated to his job as demonstrator. One day when Niki was not feeling well, we decided to use another clinic cat for the diabetic presentation. The presentation was ongoing when Niki began pawing and tapping at the exam room door. He insisted on coming in and completing the presentation!
Niki was euthanized on February 6, 2019 due to complications from small cell lymphoma. I miss Niki – he taught me so much about the "Feline Purrspective".
Oh, and Niki was partial to pizza…

Copyright secured by Digiprove © 2020-2021 Phyllis Meyer