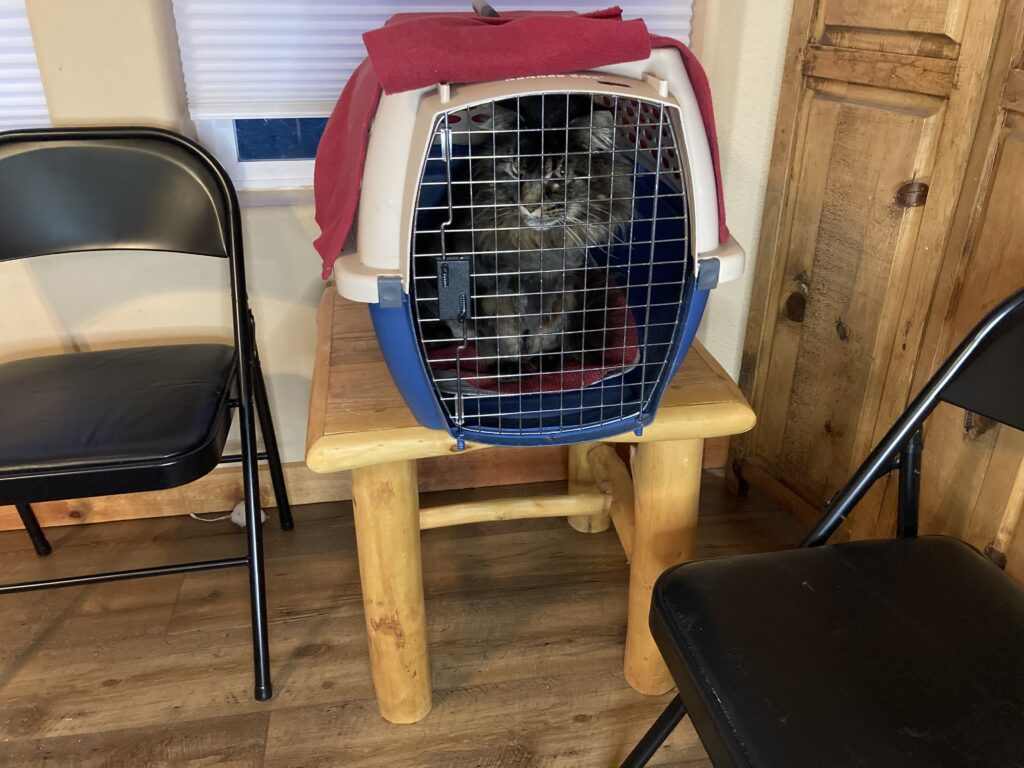 Your cat is in his carrier and the ride to the vet clinic went well. He went into his carrier for some treats without a whole lot of fuss. You played some of the cat specific music on the ride and your kitty was actually quiet for a change.
You pull into the clinic parking lot and pick a spot to park. What's next? The dreaded waiting room!
managing your cat's stress in the waiting room
You enter and check in at the front desk. You put your cat in his carrier on the floor and immediately a small dog and child run up to the carrier. You are thanking your lucky stars that you covered that carrier. After checking in, you look for a place to sit and wait. The place is packed with barking dogs and some terrified looking cats in carriers. You find a seat and squeeze in to wait.
your cat's stress in the waiting room
The Cat – Both Predator and Prey
The waiting room at a veterinary hospital can be a terrifying experience for your cat. By nature, cats are hunters but they are also hunted by larger animals, from coyotes and mountain lions to domestic dogs. Now your cat is shut in his carrier, with potential predators around.
The Cat – Both Solitary and Social
The waiting room may also have some other cats waiting. They may be frozen in fear or hissing and growling.
Cats are by nature solitary hunters but they will come together in social groups called colonies if there is enough food available. The core of the colony is the mother cat and her daughters, sisters, and their offspring. Consequently, cats are social with their immediate families, although not necessarily with other cats.
The Cat – the Language of Smell and Scent

Cats communicate in large part by smell. The waiting room is most likely full of unfamiliar scents and smells. There are the scents of strange cats and canine "predators", in addition to the odors of humans, cleaners and disinfectants.
The Cat – Unfamiliar Sounds
Cats have one of the broadest range of hearing of any land animal – they hear the high-pitched sounds of mice (that we can't hear) but also lower pitched sounds, like that of the human male voice. Returning to the waiting room, your cat may be hearing not only the barking dogs and hissing cats but also the sounds produced by the clinic office equipment. These unfamiliar sounds can be stressful for your cat.
tips for managing your cat's stress in the waiting room
Cover the carrier so that your cat will not see other animals or people.
Place the carrier on a higher surface off the floor – on a chair, on your lap. Being higher up helps your cat feel safe, less vulnerable to predators.
Play cat specific music – this music can be downloaded to your phone and played at a very low volume. Your cat can hear sounds that are almost inaudible to people. Place the phone in your cat's carrier and allow her to hear some familiar, soothing music.
Spray the carrier cover with pheromone spray ("Feliway" Classic, Comfort Zone Calming) prior to leaving for the vet clinic. Pheromone sprays can send your cat a message of safety and territory.
Bypass the waiting room: Ask the clinic staff if you can wait in your car until an exam room is open. Explain that you are trying to keep your cat's stress levels down.
Choosing a cat-friendly practice can alleviate the concerns we have listed above. A Cat Friendly Practice will have a strategy to keep your cat from seeing, smelling and hearing other animals that can make your cat fearful and anxious.
waiting area just for cats
cat-only appointment times
allowing you to wait for an open exam room in your car
Managing your cat's stress in the waiting room is another step toward having a good veterinary appointment. Because you have prepared your cat for travel to the clinic and given her ways to cope with the stress in the waiting room, she will not be so anxious during her exam. Our next step is to demystify the veterinary examination for our cats. Thank you for being an active participant in your cat's health care!
Want to keep up with the world of cats? Subscribe to The Feline Purrspective!