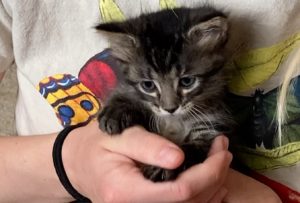 It is often said that cats are not fully domesticated. There is that streak of wildness in them – they can be aloof and take care of themselves. We don't control the breeding or hunting habits of the cats that live in the shadows of our neighborhoods and cities.
To some, this offers an opportunity to study the process of domestication. Some of the easy to see hallmarks of domesticated animals are the changes in their faces and shapes of their heads. In selective breeding of foxes, rounder heads, white pigmentation, and droopy ears became apparent after 10 generations of allowing less aggressive animals to mate ["Changes in Cat Facial Morphology are Related to Interaction with Humans", Hattoi et al, Animals 2022, 12, 3493].
Domestic cats have short noses and rounder eyes
These changes in face and head make the animals look more juvenile. The noted ethologist, Konrad Lorenz, defined these traits (the round face and big eyes) as the "baby schema". The "baby face" of human infants is said to stimulate the premotor cortex and activate the basic emotion of CARE in human adults. Likewise, animals with round heads and big eyes are "cuter" and more appealing to humans.
A research group in Japan [Hattoi et al. see above] compared the facial structure of 1) feral mixed breed cats, 2) owned domestic mixed breed cats, and 3) owned domestic purebred cats with the facial structure of 4) the African Wildcat, the ancestor of our domestic cats. They hypothesized that cats that interact with people would show changes in their faces, and this could be a marker of the process of domestication.
The team mapped facial dimensions to find a measure of the "baby schema" they could use. Since the size of the cat's eye is dependent on brightness, the researchers chose the nose length and the angle of the eyes to compare the faces of the 4 categories of cats.

The nose length (B) was reported relative to facial size, the distance between the inside corners of the eyes (A). Eye angles measured the slant of the eyes, from the inside corner to the outside corner.
Analysis of 3295 photos revealed:
Domestic cats have short noses and rounder eyes.
African wildcats and feral mixed breed cats have longer noses and slanted eyes when compared with domestic cats.
The study also found that people preferred cats with shorter noses – they were "cuter" than cats with longer noses.
| | Nose Length(B/A) | Angle of Eyes |
| --- | --- | --- |
| African Wildcats | 1.34 | 25.61 |
| Mixed Breed Feral Cats | 1.32 | 25.10 |
| Owned Mixed Breed Cats | 1.23 | 25.31 |
| Owned Purebred Cats | 1.14 | 22.77 |
Humans prefer cats with shorter noses and eyes that are not so slanted. These features may elicit caregiving behavior in humans. Domestic cats have short noses and rounder eyes; this suggests that domestication or interaction with humans has changed the facial structure of domestic cats.