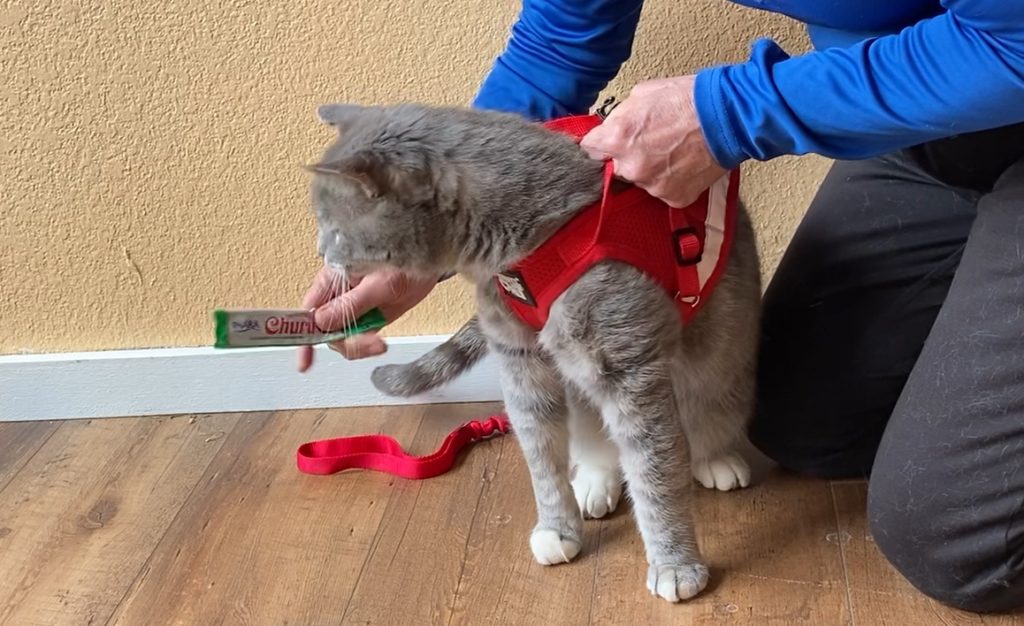 Training your cat to a harness and leash can come in handy even if you don't plan to take him adventuring.
Training your cat to a harness and leash: Benefits
Enrichment for your cat
Extra security if you are traveling
Useful for introducing your cat to other animals
ENRICHMENT: With one of the broadest hearing ranges of any land mammal, a keen and discriminating sense of smell, and vision that tracks fast moving prey, the great outdoors is stimulating for a cat. Even if your kitty has a catio, leash time is special time, allowing him or her a chance to investigate new places and to spend time with you.
SECURITY WHILE TRAVELING: If you are traveling, having a leash and harness on your cat gives you some extra security during flight layovers, customs checks, or taking a break when driving. You can have an "extra hand" while changing soiled pads in the carrier or allowing your cat to stretch her legs.
INTRODUCING OTHER ANIMALS: Once you have passed the scent swapping stage and feel the animals are ready for the next step, you can have the them "meet" with a barrier in between. Having your cat on leash and harness can give you more control over encouraging calm behavior around the new arrival. If your cat wants to "rush" the barrier, gentle pressure on the leash can slow this down and avoid a hostile encounter. The leash can help us model the appropriate behavior of a slow, non-aggressive approach to the newcomer.
Training your cat to a harness and leash
I often hear that "my cats acts as if she were paralyzed when I put a harness on her – she just flops downs and won't move". There are a number of videos on the internet of cats being dragged along by the leash while laying down.
A Better Way
Zelda walking indoors on her leash.

Like any new item, introduce the harness and leash separately. Pick a highly valued treat and train when your cat is likely to want to eat.

Let your cat sniff the harness and offer him a treat.
Reward him for letting the harness sit on his back or for putting his paws through the arm holes.
Secure the harness, reward and remove.
Allow your cat to become accustomed to the harness being on for increasingly longer periods of time. Distract him with treats and toys. If he knows how to target, use the targeting stick to encourage him to move forward while wearing the harness.
Once comfortable with the harness, add the leash. Work with kitty inside at first, with the leash attached but not being held. It is a good idea to have your cat get used to dragging the leash behind so if you drop it mistakenly, the dragging leash won't frighten her. You can use treats, a target stick or a toy on a wand to encourage her to move forward.
Pick up the leash and go for a walk! Start indoors and do some laps around the house.
Walking outdoors
Walking outside may not be for all cats. Cats who have spent most of their lives indoors may find the great outdoors overwhelming and frightening. It may never be their "cup of tea".
To give this the best chance of success, start slowly. If you are just going to the backyard, start with brief trips outside in a carrier that is covered (have her harnessed and leashed). Leave the door open and let your cat smell and hear the outside. Let her come out on her own, if she wants to. Gradually work up to allowing her to meander around the yard with you at her side.
If you are planning on venturing further, it is wise to have a "mobile safe place" – a stroller or backpack. Introduce these items gradually but let your cat guide you – I have had cats that jumped right into the stroller and quickly learned that the stroller meant shade and safety.
Walking a cat vs walking a dog.
Cats do not have the stamina of dogs. Cats have evolved to move stealthily and quietly, with short intense bursts of activity: running and pouncing. They do not have the stiff-legged gait of horses and dogs, who can walk and trot for long periods of time – cats will get tired and will need some way of being transported.
Cats will want to run and hide when danger presents itself. The backpack or stroller will keep your cat safe and comfortable when on a walk.
Is your cat walking you? Walking your cat is often you going where she wants to go. If you feel you need to direct her path, target training can help.
An essential skill for the "adventure" cat is recall – train your cat to come when called. This can be invaluable if the worst happens and he somehow gets away. He most likely will hide and not respond at first – give him some time to calm down and let his training kick in. Keep calling him or giving him his recall cue.
Training your cat to a harness and leash can come in handy when traveling or introducing new pets. It also can strengthen your bond with your cat as you both enjoy the flowers in the garden together!
Want to keep up with the world of cats? Subscribe to The Feline Purrspective!