A Better Vet Visit for Your Cat
From Your Cat's Purrspective…
You know something's up – your carrier is out. You hide under the bed but your human pulls you out and proceeds to squeeze you into the dreaded box.
You swing along in the air and then are loaded into a larger box that moves and smells funny.
You finally stop moving and swing through the air some more and arrive at another house where you smell lots of other animals. Oh no, not this place again! You can smell other cats – most of these cats too are afraid. As you move through the fog of smells, you arrive in a small room with a metal table.
A strange human opens your carrier door and tries to coax you to come out – you're not sure what is out there but now your carrier seems like a good place to stay. Suddenly, your world tilts and you slide out of the carrier onto the cold, hard table.
You hiss your displeasure. Another strange human proceeds to look into your eyes, put a hard plastic thing in your ears, and presses a cold metal disc against your chest. Then, the strange human pokes you with a needle and you are finally allowed to escape back into the dreaded carrier – at least, it has taken you back home before.
A Better Vet Visit for Your Cat – What We Can Do

CHOOSING A CARRIER.
The plain-vanilla plastic carrier sometimes is the best option – safe and secure, easy to clean, and sturdy.
For your veterinary team, the removable top is a bonus. It allows your vet team to work with your cat in a place he knows – the bottom of his carrier.

MAKE YOUR CAT'S CARRIER A SAFE PLACE.
It should have a comfortable blanket or towel in it that smells like her.
Leave the carrier out a home – your cat may nap or play in the carrier.
Offer some food close by or in the carrier for her to enjoy.
Play games in and around the carrier.

TAKE KITTY FOR SOME RIDES THAT DON'T END UP AT THE VET.
Start with short rides, maybe just around the block.
Work up to longer rides to pleasant places – if you have a cat stroller, you could work up to going for walks in the park.
ALWAYS move at your cat's pace – if he is hunched up and hiding, slow down and shorten the ride.
HANDLE AT HOME FOR A BETTER VET VISIT FOR YOUR CAT
Take time at home to handle her feet and head
Work up to gently lifting her upper lip to look at her teeth.
Get her used to being picked up.
Make sure to reward her with tasty treats!

SPRAY THE CARRIER WITH SYNTHETIC PHEROMONES 20 MINUTES BEFORE THE RIDE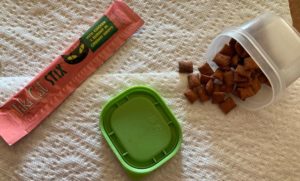 BRING SOME TREATS ALONG TO MAKE THE VISIT MORE PLEASANT.
Limit kitty's food prior to the appointment
he will be more willing to eat some treats