Cats and Catnip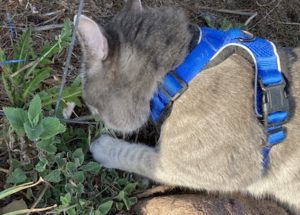 Cats and catnip- some cats love it; some cats are indifferent to the herb. What's the story on catnip?
Catnip is a member of the mint family. Its scientific name is nepeta cataria. Catnip contains a compound called nepetalactone, which induces the "catnip response":
sniffing
licking and chewing with head shaking
chin and cheek rubbing
rolling over and body rubbing
The catnip response is specific to the Felidae family – other mammals do not respond to nepetalactone. Lions, jaguars, leopards and domestic cats enjoy catnip; most tigers are indifferent to catnip.
About 2/3 of domestic cats show the "catnip response". Since catnip does not elicit a response from all cats, a genetic element may be involved. Most cats in Australia do not respond to catnip and they come from a relatively closed genetic group.
Kittens show a catnip response between 3-6 months of age (if they are sensitive). Before then, forget it!
Nepetalactone stimulates the cells lining the nasal cavity and not those of the vomeronasal organ. Smelling the nepetalactone induces the "catnip response". Although many cats nibble on catnip, nepetalactone is not effective orally. Cats can be fairly sensitive to catnip and even weak doses of nepetalactone may induce the "catnip response".
Cats and catnip – why does catnip affect cats?
Catnip produces allomones, chemicals that transmit messages between species. Catnip plants release these allomones (nepetalactone is one of these) into the air to repel insects that may eat the catnip. Nepetalactones can repel insects as well as the synthetic repellent N,N-diethyl-meta-toluamide (DEET). Maybe catnip attracts insect-eating cats… 🙂
Cats and catnip and facial pheromones…
A recent study that combined nepetalactone extract with feline facial pheromone had an interesting outcome. Cats exposed to the combination did not exhibit the typical catnip response but were more tolerant of human handling and having their blood pressure measured than cats exposed to the pheromone spray alone.
Why does catnip work? We don't really know.
Does nepetalactone stimulate natural pheromone production?
Does it change how pheromones are processed?
Does it reinforce the semiochemical message of the pheromones?
For cats not sensitive to nepetalactone
Silver Vine – a plant from east Asia, has 6 compounds that are similar chemically to nepetalactone. 80% of cats respond to silvervine.
Valerian Root – Contains 1 compound with similar chemical structure to nepetalactone. 50% of cats will respond to valerian root.
Tartarian Honeysuckle can also elicit a response in cats and is considered safe. Honeysuckle appeals to about 50% of cats.
Catmint
Catmints are also members of the mint family and belong to the genus nepeta. They may contain a lower concentration of nepetalactone. While catnip is a leggy weedy plant with whitish flowers, catmints are bushy plants with showy purple or sometimes pink flowers.

The catmint bush in my backyard does not induce the "kitty crazies" but it is a popular place – the resident and neighboring cats come to rub their heads against the shoots of the plant and sometimes nap in the center.
Cats sensitive to catnip really seem to enjoy it. The "catnip response" lasts about 10-15 minutes and does not cause any long lasting effects. If your cat does not care for catnip, try some silvervine for a "kitty cocktail"!
Want to keep up with the world of cats? If you haven't already, subscribe to The Feline Purrspective weekly blog.