Sometimes there is trouble when we house a group of cats together in our home. How do we reduce the number of inter-cat squabbles?
Cats are socially flexible
they do fine on their own
they can live with other cats IF there are enough resources.
This is the sticking point – cats are territorial. Territory is all about resources – food, water, litter boxes, resting places. Cat fights are frequently about territory and resources!
Cats of the same social group can often (but not always!) use the same resources at the same time. If cats do not belong to the same group, then they will often time-share, taking turns to use that heated bed every cat likes.
But sometimes even cats that are "BFF"'s have a spat. One answer is to "space" them – make sure there are enough resources spread throughout the house or apartment.
Space Cats Vertically > more space for everyone > Less fighting>less stress
Many cats like to perch up high. They have a great vantage point and can see who's coming. Your apartment or house may have a small footprint but have you thought about the unused "cat space" up toward the ceiling?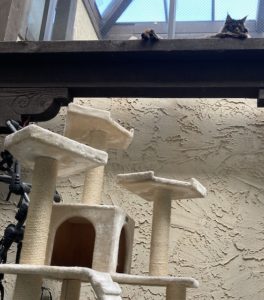 Vertical places can be valued resting places or alternate feeding stations.
We've all seen the videos and posts of those amazing cat houses but your vertical cat world does not need to be so elaborate or require as much work. It can fit in seamlessly to your decor.
cat trees
Cat trees, true to their name, have small footprints and utilize vertical space. Some have "hide boxes" for an undisturbed nap. A cat tree also can give a cat access to a high place or offer an alternate path to another part of the home. Placing a tall cat tree next to a stair case might allow a cat to climb up and through the railing, avoiding another cat on the stairs.
book shelves
Whether actually used for books or storage, the tops of book shelves can be a cat highway. "Step" bookcases can provide tasteful storage for you but give your cats a ladder to a valued resting place – perhaps the top bunk of a bunkbed.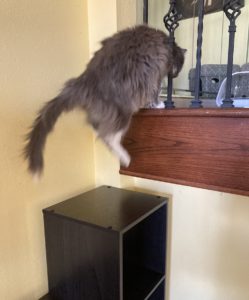 the top shelves of closets
Often unused space – after all the shelves are hard to get to.
Good place for a secluded nap.
A step ladder may get kitty up there. Baskets that hang on the underside of the steps can give you storage.
Stack storage bins in a step configuration so your cat can climb to that top shelf
An inexpensive single pole cat tree may provide access.
"Thinking vertically" allows you to provide your cats with additional resting places and feeding stations. There will be less conflict if each cat can find his own space.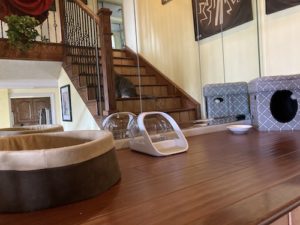 Release your inner cat and space cats vertically – spread out resting places and feeding stations!