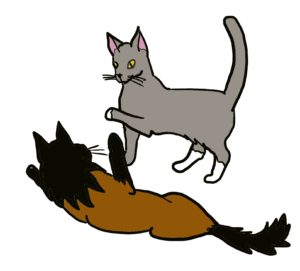 It's fun to watch cats at play – pouncing on each other, wrestling and chasing after one another. But some of these behaviors are similar to fighting – how do you know when cats are playing or fighting?
A group of cat behavior researchers (Reference 1) posed this question recently. Previous research has focused on what the cat is playing with – an object, another cat? These researchers classify play according to the emotions and motivations of the cat. They have coined the phrase "mutual social play" and have listed the behaviors that are characteristic of mutual social play between cats. This list will help us decide if our cats are playing or fighting.
"Play" has many different definitions. The Oxford English Dictionary defines "play" as "engag[ing] in activity for enjoyment and recreation rather than a serious or practical purpose".
Cats at play – what are they playing with?
Object play
Chase a ball
Throw a catnip mouse into the air
Pounce and attack another cat's tail – although the cat is playing with another cat, this play treats the other cat's tail like an object.
Social Play
with other cats
with other animals (including humans)
Kittens practice hunting skills and improve their coordination through play. Play helps adult cats explore their environment and engage in social relationships in a way that's fun for them.
Let's return to our original question – play between cats can look pretty rough. How do we tell whether cats are playing or fighting?
The body language of cat aggression
There is nothing as dramatic as a cat fight. Two cats face off, fur standing on end, yowling and spitting. Often, one cat may slowly move away, all the time presenting his side to the other cat (to look larger); his back may be arched. Depending on the motive for the standoff, the remaining cat may just stand his ground and allow the other to leave or he may pounce, and the two cats grapple each other, biting, clawing, kicking, and the "cat ball" rolls away until it stops and both cats take a breather.
Kittens practice these fighting postures when they play with littermates. You can see them arch their backs and sidestep. However, as kittens reach 12 weeks or so, the arch and sidestep (Reference 1) are seen less frequently. This is most likely because the kittens are starting to identify these postures as aggressive, as part of a cat fight.
Although kittens will continue play together, they start to become more interested in playing with objects around 10-14 weeks of age. They begin to focus more on capturing prey and getting food for themselves.
Cats at Play – Mutual Social Play
Adults cats also play, although play becomes less frequent as cats grow older.
"The function of play is to build pro-social brains, social brains that know how to interact with others in positive ways," said Jaak Panksepp, a noted neurobiologist.
Mutual social play
Is reciprocal, that is the participants want to play with each other
The participants enjoy the interaction
The participants exercise social skills that can be used in other social interactions
Cats at Play: the body language of mutual social play
In mutual social play, there should not be much vocalization such growling or hissing; claws are generally sheathed and biting is gentle, without intent to injure. There are lots of pauses. Play starts with an invitation and ends by mutual consent.
Invitation to play

Two cats face each other – one may roll over on his back showing his belly. The other cat can be standing close over the first cat – the tail is often up. One cat may reach out and tap the other cat with his paw.
Play

The invitation is often followed by a pounce and the two cats may engage in bouts of wrestling and chasing. The cats will switch roles. They may repeat the "invitation" to continue the play session.
end of play

Play usually ends with one cat standing facing the other cat, who may be on his/her side, or there is a chase sequence that just dies off, with the cats walking away from each other.
When cats at play begin to fight:
What starts as mutual social play can sometimes turn into a cat fight.
What to watch for:
There is no reciprocity – cats are no longer taking turns pouncing and chasing
Increase in vocalization – hissing, growling
You start to see "distance increasing postures": standing sideways, arching back, fur on end
what to do: separate the cats
Distraction – If a bag of cat treats is at hand, shake it. Try pulling a toy on a wand or shining a laser pointer on the floor between the two cats.
If hostilities are not too far advanced, try tossing treats in opposite directions
Use a towel or piece of cardboard to herd the cats away from each other
Give the cats a "cool-down" period in separate rooms
Above all, avoid handling the cats – cat bites and scratches can easily become infected and require medical attention.

Play can be part of the "social glue" that keeps a social group of cats together. Keep an eye on interactions between the cats in your home – particularly ones between cats of different social groups. Make sure to not to confuse fighting with mutual social play!
references
Gajdoš Kmecová Noema, Pet'ková Barbara, Kottferová Jana, Skurková Lenka, Mills Daniel S. "Are These Cats Playing? A Closer Look at Social Play in Cats and Proposal for a Psychobiological Approach and Standard Terminology" Front. Vet. Sci., 23 July 2021. Sec. Animal Behavior and Welfare

Volume 8 – 2021 |

https://doi.org/10.3389/fvets.2021.712310
Want to keep up with the world of cats? Subscribe to The Feline Purrspective!