Giving your cat a pill can be a challenge for many cat owners. Often, the pills are bitter or seem too big. The veterinary staff demonstrates the technique but when you get home, you end up with a cat under the bed and the pill on the floor!
I had medicated cats before I became a veterinary technician, using a plunger style pet piller. In tech school, I adopted a 3 yr old Birman cat, Marley, who needed a daily dose of medication for anxiety. It was a daily struggle giving that little blue pill, which could end up in his mouth, but I often found it under the bed or in the hallway on the floor. Marley would see the pet piller in my hand and run.
Giving your cat a pill – daily medications
So, I cringed when my cat Athena was found to be hypothyroid after radioactive iodine treatment. She needed thyroid pills twice a day. She is a cat who could be difficult to handle alone. However Athena liked the soft treats the pill was hidden in, and life was good, for a time….
After a while she tired of the pill treats and we were back to the drawing board. I turned to some low stress techniques – I first offer Athena a treat, then the treat-coated pill, and follow with a few more treats. When I adopted Zelda and Gus, who will eat anything that is not locked up, I finally trained all the cats to sit in a circle and stay, while Athena takes her medication. Then all the cats get treats!
I still have to "pill" Athena occasionally – she does not like having something slid down her throat and quickly goes back to eating the pill by herself.

cat whispering – pill training
Giving your cat a pill for a chronic condition can be different than medicating her when she does not feel well. Say she is diagnosed with pancreatitis or an upper respiratory infection. Either one of these can reduce appetite and then your cat is not interested in treats. This is when having done some "pill training" comes in handy.
If you are doing a treat time every day or a treat time a few times a week, mix it up a bit and give some treats using "pilling" techniques.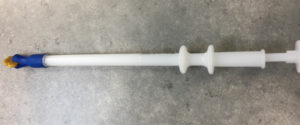 Treats by Pet Piller
Start by offering your cat the pet piller with a lickable treat on it.
Then try offering hard treats using the piller
Get your cat accustomed to having you behind him while giving treats.
When your cat needs medication and he is not well enough to take it in treats, the pet piller will be familiar.
Giving your cat a pill – think outside the box
Sometimes, you need to think outside the box when giving your cat a pill. A few months ago, my youngest cat, Gus, got loose with his harness and leash on when we were hiking. After 2 hours, we found him – his harness and leash were gone, and he was painful when walking. An MRI of his spine showed lots of inflammation but fortunately, no nerve damage. He was so painful that he would growl when he changed positions. His appetite was down and taking a pain medication in a treat was not an option.
I considered using the pet piller since he is familiar with it but then decided to try a technique I had recently seen at a conference on senior cat care. This technique uses one of the popular "squeeze up" treats for cats that come in tubes (Delectables, Churu).

Cut the end of the tube so that you can squeeze the paste up for the cat to lick.

Put the tablet or capsule in the opening.

Squeeze the tube and the tablet goes up into the cat's mouth with the paste.
giving your cat a pill – practice makes purrfect!
Why wait until your cat is sick to come up with a strategy for giving your cat a pill? Do some "pill training" – set aside some time to accustom your cat to different ways of taking "pills" (disguised treats). When the time comes to give that pill, your cat will be familiar with the pet piller or squeeze-up treat and you will have had some practice with pilling.