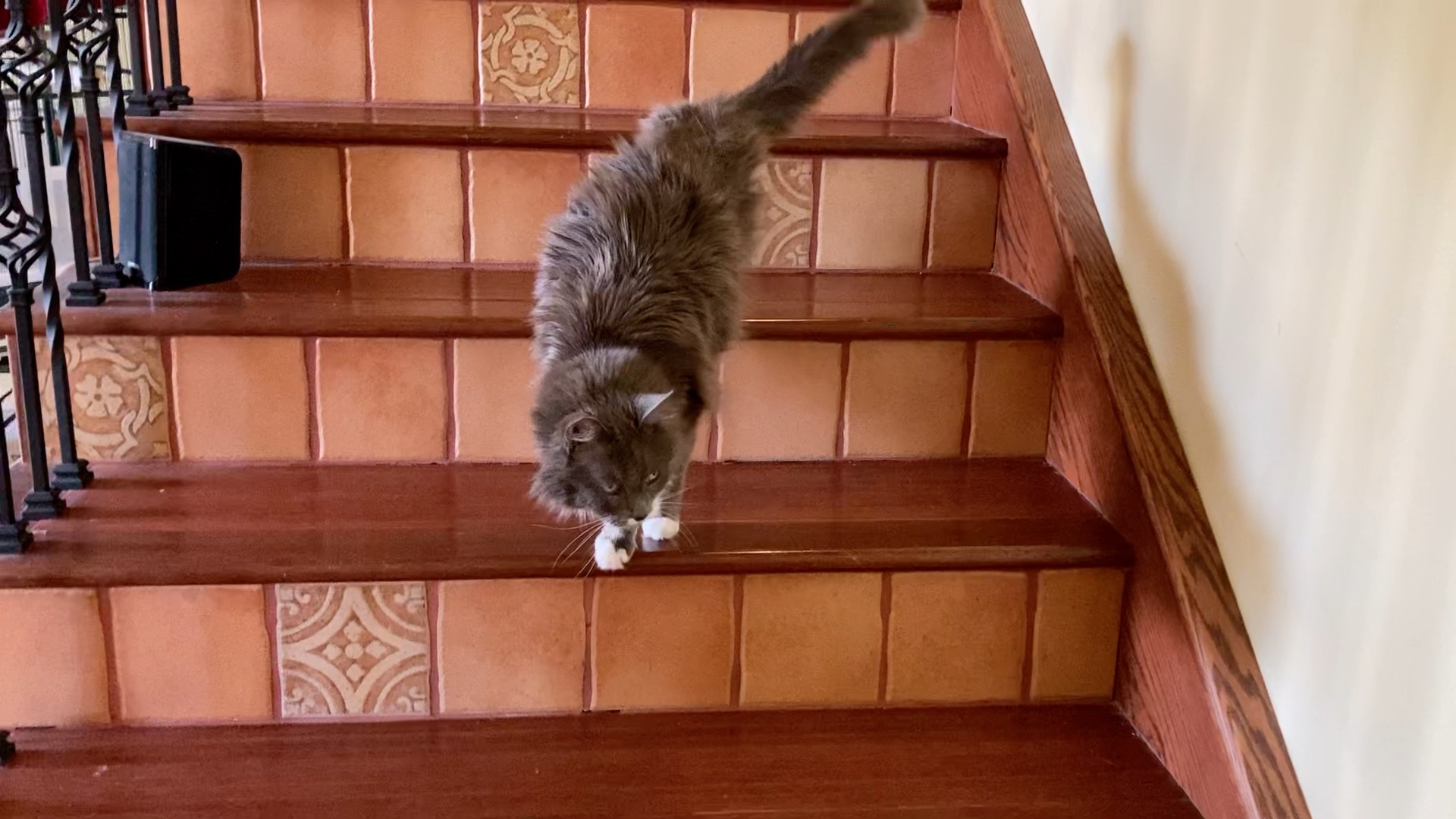 Arthritis refers to inflammation and stiffness in the joints. As humans and cats age, the protective cartilage that cushions the ends of the bones wears down. Osteoarthritis in humans most often affects our hands, knees, hips and spine; in cats, it is most prevalent in the hip, hock and elbow joint.
HOW DO I KNOW IF MY CAT HAS ARTHRITIS?
Your cat can't tell you verbally that he is painful. You must watch his body language and behavior.

BODY LANGUAGE:
Do you detect a limp or stiffness as he moves?
Is your cat more grumbly, maybe even aggressive when you groom or pet him?
Is she hunched-up instead of curled-up when sleeping?
BEHAVIOR:
Is she just not as active?
Does he still jump up on the bed, chairs, or counters?
Does he still use his scratching posts?
Does she still climb up the cat tower?
Does she still play with toys?
If your cat is still doing his regular cat things, we now need to consider HOW he is doing those things.
JUMPING UP AND DOWN
Does she still spring up on tables, counters, landing gracefully on all four feet? Or, does he pull himself up with his front claws to get on the bed?
Does she jump on a chair first and then go to the table instead making one jump from the floor?
Does he go down in one jump or in stages?
UP AND DOWN STAIRS
Does he run smoothly up and down the stairs or does he go up and down the stairs a step at a time? Does he "bunny-hop" up with his back legs?
Does she stop for a break halfway?
PLAYING WITH TOYS
When he swats his catnip mouse about, is he still able to pass it smoothly from paw to paw or does he seem slow and stiff?
Can she still snatch the toy in mid-air?
OTHER THINGS TO WATCH FOR:
Is she not grooming as much as before? Are you noticing some mats forming in her coat?
Any litter box accidents?
Is his appetite still good?
If you answer "yes" to some of these questions, it is possible that your cat has arthritis and may be having some pain and stiffness in her joints.
Pain and discomfort that happens while you are doing something usually results in your avoiding that activity. Chronic pain can affect all the systems in the body, affecting appetite, sleep, and how well your bowels work. Treating your cat's arthritis will improve his quality of life.
My cat has arthritis – WHAT CAN I DO ABOUT it?
A veterinary exam is needed to diagnose arthritis and to come up with a treatment plan.
Cats can be difficult to assess in the veterinary hospital. They are out of their environment at the hospital and are reluctant to play with toys or even just to move around. This is where, you, the cat guardian, can help your vet help your feline friend.
Smartphones nowadays can take high resolution video. We often have our phones with us, so take some video of your kitty going up the stairs, jumping up on the bed, or jumping down from her favorite spot. You can send the video to your vet to help with the diagnosis and treatment plan for your cat.
TIPS FOR TAKING VIDEOS
Take the video with your phone in the "landscape" orientation. If you video with the phone vertical, the video frame will have black borders on either side.
Have "LOTS" of light. The more light the better particularly in stairwells. Bring some of those floor lamps in there.
Most phone camera default to "autofocus". You may need to FOCUS your phone. Tap on the screen where your "subject" (your cat ) is or will be – your camera will focus on that area; some exposure controls may also show up; adjust as needed.
MY CAT HAS ARTHRITIS – WHAT IS THE TREATMENT?
If your cat is diagnosed with arthritis, your vet can recommend a treatment plan. It may include:
pain medications
dietary supplements
weight loss

It is great that you are being proactive with your cat's health! Arthritis is part of getting old but let's try to make your cat's senior years as "golden" as possible. You can find out more about your cat and arthritis at the Osteroarthritis Checklist for Cats.
Want to keep up with the world of cats? Click the button below and subscribe to The Feline Purrspective!