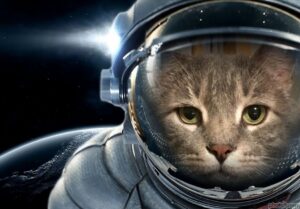 Going to the vet can be like a scene from a science fiction movie for your cat. He becomes anxious the moment the "spaceship" (carrier) comes out. He boards his spaceship and then launches into the unknown. When his craft lands on the alien surface ( the vet clinic), he is met by aliens who make strange noises and poke and prod him with exotic instruments.
You have been working to make this experience not so frightening – you have carrier trained your cat, introduced him to the car, and practiced cat friendly handling with him. While training sets the stage for a good vet visit, sometimes a little medication can help a cat relax at the vet, reducing his anxiety just enough to make the visit a good one.
My youngest cat, Gus, was trapped on the streets of Old Colorado City and came to live at CatTails Feline Health Center for about 6 months before I took him home. You would think that returning to a place he is familiar with would not be traumatic. However, when we returned for an exam, his heart rate was a whopping 230 bpm in spite of his training and my being with him. Gus now receives a dose of gabapentin before vet visits to reduce his anxiety and his heart rates are lower, 190-200 bpm.

Pre-Appointment medication can help a cat relax at the vet
Two of the more common drugs used to reduce cats' anxiety at the veterinary clinic are gabapentin and trazadone.
gabapentin
developed as an anti-convulsant
has anti-anxiety properties – reduces the release of excitatory neurotransmitters
is a pain reliever
The typical dose is 100 mg given 1.5 – 2 hours prior to your cat's vet visit. Frequently, a dose is given the night before. Doses can vary for individual cats – some cats may do well with a 50 mg dose while others may need 150 mg
Gabapentin is available in capsules; it can also be compounded in small tablets or made into a liquid.
capsules: The capsule is opened and the powder is mixed in a small amount of tuna fish or canned cat food. Gabapentin is bitter and some cats may not eat it in food. In these cases, it may be better to give the capsule directly to the cat.
liquid: The liquid may result in foaming at the mouth.
tablets: Gabapentin can also be compounded into flavored small tablets.
Your cat may be a little sleepy or wobbly after taking gabapentin. You may want to watch kitty near the stairs or jumping up on things!
Trazodone
Another drug used with cats is Trazodone. Trazodone is an antidepressant that is commonly prescribed for insomnia and depression in humans. Like gabapentin, one of its side effects is drowsiness and possibly anxiety reduction.
Trazodone can be combined with gabapentin if your vet feels that gabapentin does not provide enough sedation.
Typical dose is 50 mg given by mouth 90 minutes before the stressful event. Trazodone does lower blood pressure in cats (see reference below) and may have a higher risk of serotonin syndrome if used with other anti-depressant medication such as fluoxetine (Reconcile). Trazodone is available as a tablet or can be compounded into a liquid or capsule form.
Supplements
If you feel your cat is fairly calm and you are not ready to go the drug route, a calming supplement in place of medication can help a cat relax at the vet. Supplements can help reduce a cat's anxiety but will not induce the sedation afforded by gabapentin and trazodone.
Zylkene contains a protein derived from milk (alpha casozepine) that has been shown to induce calm behavior in cats (see reference below) It is recommended to start the supplement about 2 days prior to the vet visit. Most cats like Zylkene and will readily eat it sprinkled on their food.
L-theanine is an amino acid that occurs naturally in green tea leaves. It has been shown to keep cats and dogs relaxed (see reference below) and comes in a tasty chew tablet. Solliquin (Nutramaxx) and Anxitane (Virbac) are two veterinary-labeled supplements containing L-theanine. Start the supplement per manufacturer's directions 2-3 days before the vet visit.
Supplements or medication can help a cat relax at the vet and complement the training you have done to reduce your cat's anxiety at his vet visit. Your cat will be less anxious and more willing to draw on what he has learned before and to accept new experiences. Given under your veterinarian's supervision, these drugs and supplements are safe and effective. While the supplements are palatable, gabapentin and trazodone are bitter, which some cats may find aversive. In the next post, we will see what we can do to encourage your cat to take a bitter pill.

references:
1. Fries RC, Kadotani S, Vitt JP, Schaeffer DJ. Effects of oral trazodone on echocardiographic and hemodynamic variables in healthy cats. Journal of Feline Medicine and Surgery. 2019;21(12):1080-1085. doi:10.1177/1098612X18814565
2. Makawey A, Iben C, Palme R. Cats at the Vet: The Effect of Alpha-s1 Casozepine. Animals (Basel). 2020 Nov 5;10(11):2047. doi: 10.3390/ani10112047. PMID: 33167443; PMCID: PMC7694447.
3. Dramard, V., Kern, L., Hofmans, J. et al. Effect of l-theanine tablets in reducing stress-related emotional signs in cats: an open-label field study. Ir Vet J 71, 21 (2018). https://doi.org/10.1186/s13620-018-0130-4