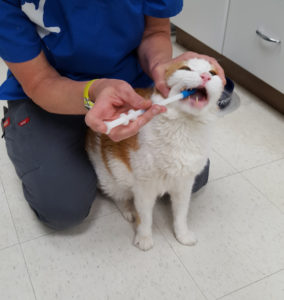 Many cats are terrified coming to the veterinary clinic. Some freeze in fear while others fight for their lives. Calming medications given before the vet visit can reduce your cat's anxiety!
Your vet has prescribed calming medication for your cat. So, what's next?
How to Give Your Cat a Bitter Pill
Calming medications such as gabapentin and trazadone are bitter. How do you give your cat a bitter pill?
Giving Medication in Food
Pros: convenient for the caregiver
Cons: If you give your cat a bitter pill in her food, she may refuse to eat that food in the future. Use something other than your cat's regular diet, say, tuna fish.
Cons: Your cat needs to eat all the food to get her full dose of medication. Use as small an amount as possible of strongly flavored food to deliver the medication.
Tip: "Hunger is the best sauce" according to Sancho Panza's wife, Teresa, in the novel Don Quixote. If your kitty is hungry, she will be more likely to eat the food containing the medication. Fast your cat overnight or pick up her food 2-3 hours before offering the medication in food.
Pilling by hand
If your cat accepts being "pilled", coat the capsule or tablet in some butter or a pill treat, and slip it down kitty's throat. Video Link.
Pros: You will know that your cat has gotten the medication
Cons: No one likes having something shoved down his throat. Your cat may gag and spit out the tablet.
Cons: It may be hard to repeat the dose if your cat decides to hide.
Tip: Reward your cat with some tuna juice or a tuna paste treat after she swallows the pill. This will also help the tablet or capsule go down.
Other Ways to Give Your Cat a Bitter Pill
Make your cat a partner in his health care. Let's reward him with something of value for taking the medication. Take a few minutes and think about what your cat really likes. Is there a particular treat he likes – liverwurst, cheese, tuna or chicken paste? Catnip? Grooming session?
Do some "pill training" with the following methods before you try giving the medication. You can use hard treats or kibble as "fake pills". Start 3-4 days before you have to give the medication. This way you can practice your technique without wasting the prescription medication or running the risk of your cat biting into the bitter pill.
Introducing a pill into a stream of treats
This technique works best if the tablets are small and the cat is hungry. With larger tablets, you run the risk that the cat will bite into the bitter pill.
Offer your cat several treats.
Then offer a "fake" pill (a treat in a "pill treat", cheese, liverwurst – something you can mold around the pill).
Immediately present more treats as your cat finishes eating the "fake" pill.
Using a Pet Piller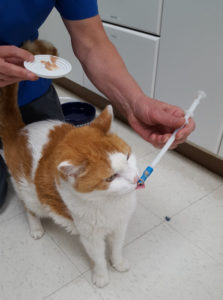 You can use a "pet piller" to give the capsule or tablet. A pet piller is a tube with a plunger and a soft tip. The pill fits into the tip.
To use a "piller", it is best to practice first with treats. If your cat likes tuna or chicken paste, start by offering your cat the paste on the piller and letting him lick it off. This way he associates swallowing with piller.
Work up to offering a "fake" pill in the piller after your cat has licked off the paste. You want to ease the "fake pill" into the side of mouth onto the "wave" (back) of the tongue. Avoid cramming the piller down the cat's throat and making him gag. Follow with more paste on the piller to help your cat swallow the pill.
It may take a few trials for your cat to learn to use this gadget. Once he does, he will voluntarily swallow the pill in anticipation of getting more treats. This method works well for a variety of sizes of tablets and capsules. Video Link.
Using a Squeeze-Up Treat
If your cat likes the tubes of paste (Churu, Delectable) that you can squeeze up into her mouth, you can try to give small capsules or tablets using squeeze-up treats. You will want to cut the tube so that the opening is wide enough to accommodate the tablet or capsule that you are giving.
Give your cat some of the paste
Slip the capsule/tablet into the tube
Squeeze the paste with the medication up into your cat's mouth.
Squeeze fast enough so that the tablet or capsule slips up into your cat's mouth while she is licking and swallowing. On the other hand, don't squeeze too fast or your cat will gag and refuse the treat.



Zelda, a Maine Coon cat, needs several gabapentin tablets to be calm for a lion cut. The other day, she bit into the first tablet in a pill pocket and then, understandably, refused the next treat-wrapped tablet. Fortunately, Zelda is trained to accept medication via a pet piller. She readily took the next tablet with the piller and was rewarded with a Churu treat.
Calming medications help reduce your cat's anxiety and fear, resulting in a more productive veterinary visit. But it is challenging to give your cat a bitter pill. Training your cat to take medication not only ensures that your cat gets the medication he needs but also strengthens your relationship with him.