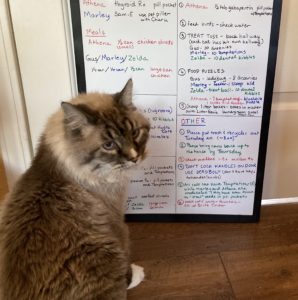 The alarm goes off. You tap the OFF button, then stretch and sit up. Another work day. You get up, feed your cats, and grab a quick cup of coffee and bowl of cereal. You breeze through a shower, get dressed and leave for work.
Or you may be packing lunches and making sure the kids are dressed and fed for school. You are on automatic pilot, going through the motions efficiently. You have done this many times before – you have a morning routine.
A routine is a set of things that you regularly do to get something done. Routines bring order to our day and save us time because we get more proficient at the steps through repetition. They reduce the effort we expend on doing things because they don't require conscious thought – you can cruise through on autopilot.
Routines help cats: routines reduce stress
Routines help cats much in the same way routines help us – they bring order to a cat's day and the security of knowing what is going to happen. In this way, routines help to reduce stress and anxiety. They are familiar and soothing.
A wild cat colony has routines. The colony may sleep through the day waking in the late afternoon to get ready to hunt at dusk, when prey such as mice become active. Then follows a sequence of hunting every few hours as their stomachs empty and they are able to eat again, winding down at dawn. Between feedings, the group will snooze, groom each other or sometimes play with kittens or other adult cats. (See Sharon L. Crowell-Davis, "Cat Behavior: Social Organization, Communication and Development", I. Rochlitz (ed.), The Welfare of Cats, 1–22. 2007 Springer)
Our domestic cats are synced to our routines: waking with us, anticipating being fed, watching us go to work, and waiting for us to return home. Obviously, we want to feed the kitties around the same time every day. However food, water and clean litter boxes are not your cat's only requirements. Cats also need consistent, regular human interaction and opportunities for predatory play. Environmental Needs of Cats
Human interaction and playtime
These are best incorporated into a daily routine, say playtime after dinner or as part of a "bedtime" routine. Routines help cats and owners – the routine makes it easier for you to ensure your cat gets regular interaction (once established, you can cruise through on autopilot); your cat benefits from the fun and enrichment of interaction and playtime.
His little cat brain does not have to worry about what will happen next. This reduces his stress and anxiety, and gives him a sense of control – he know what's going to happen. Maintaining his routine can be particularly helpful to your cat in times of stress – playing with a familiar toy not only distracts your cat, it is also soothing.
Make Sure to Maintain Routines
when traveling with your cat (as best you can)
when entertaining house guests
when introducing new pets
when you are away, ask pet sitters to follow your cat's daily routine
Routines help cats from becoming bored
A routine provides a venue to establish some "good" habits and learn new things. Accepting medication can become a habit – cats will learn quickly to accept "dummy" pills in treats if they do this regularly.

Mix up the routine from time to time – change is part of living. For example, in the medicating routine, you may wish to introduce and practice other ways of offering a pill to your cat – say with a pet piller or offering a "dummy pill" in a squeeze up treat.
Example of an evening routine
medication time (real or practice with treats)
treat toss or playing with interactive toys (predatory play)
food puzzles (foraging/hunting)
brushing teeth

Consider including a training session in your cat's daily routine. Take some time and make a list of what you want to teach your cat then pick a new skill each week to do. You will be more likely to get it done if it is part of the routine!
Routines not only bring order to our day, our routines help cats by giving them a sense of control and security, reducing stress and anxiety. Take a few minutes to set up a daily routine for your cat – have him learn new things, enjoy some grooming, play time, or food puzzles!