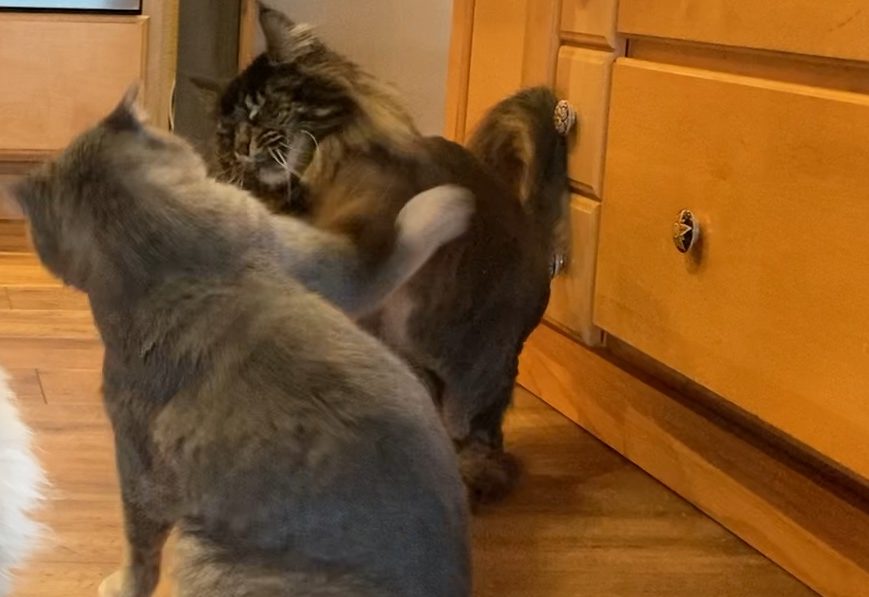 In spite of our best efforts, things can go wrong and our cats confront each other aggressively. You may have adopted a new cat and he escapes the room you are keeping him in while introducing him to your resident cats. Something may startle the cats, say an outdoor cat comes to the window and one cat attacks a housemate in a bout of redirected aggression. Separation is the immediate solution to these unplanned events.
Indoor Cat Fights vs outdoors
There is nothing as dramatic as a cat fight. Two cats face off, fur standing on end, yowling and spitting. Often, one cat may slowly move away, all the time presenting his side to the other cat (to look larger); his back may be arched. Depending on the motive for the standoff, the remaining cat may just stand his ground and allow the other to leave or he may pounce, and the two cats grapple each other, biting, clawing, kicking, and the "cat ball" rolls away until it stops and both cats take a breather.
Unlike cat fights outdoors, the indoor cat fight can be more aggressive and more likely that either a person or a cat gets injured as things are in such close quarters. There may not be the ritual posturing and howling of a territorial cat fight outdoors. There may not be the opportunity for one of the cats to get away and there is not the extinction in fighting that can happen once one cat leaves the other's territory.
How do we "break up" the indoor cat fight?
Move calmly and deliberately – avoid fast or jerky movements
Close doors to the area the fight is happening.
Distract the cats momentarily so that you can block them from seeing each other.
Herd the cats away from each other.
Lure the cats into separate areas (rooms) – put a door between them!
When all is calm, evaluate cats and people for injury. Seek medical attention if necessary.
Resist the temptation to scruff both cats and pull them away from each other. You will most likely get scratched, and, worse, get bit. Not only may you require medical treatment, your bond with your cat or cats will suffer.
Scruffing does not calm an adult cat and can actually injure him. Many people have been bit while scruffing a cat – the kitten reflex is long gone.
breaking up the indoor cat fight
A broom can be handy to gently separate fighting cats. It you anticipate aggressive encounters, attach some cardboard to the broom.

Distractions: If a bag of cat treats is at hand, shake it. Try scattering treats on the off-chance it may distract them. Try pulling a toy on a wand or shining a laser pointer on the floor between the two cats. Avoid using really loud noises to distract the cats on the off-chance you may frighten them. Adding fear to already heightened emotions can make the fight worse.

Block visual contact: Try to slide some sort of barrier between the combatants. This may be a broom, piece of cardboard, or a sofa cushion.
Herding/Luring: Once out of sight of each other, try to direct them away from each other by tossing treats in opposite directions. If food is unsuccessful, "herd" one cat (preferably the more aggressive cat) with your barrier gently away from the other toward a place where you can separate the cats by a closed door.
A towel or blanket can be used as a barrier, albeit a flimsy one. If you can keep some tension on the edges and target the aggressive cat, this may be enough time for the other cat to get away, for example, and climb a cat tree. You can also try and cover the aggressive cat with the towel. Be aware that fighting cats are tense and coiled like springs – they move extremely fast and may just outrun your well-aimed towel.
Be careful not to succumb to the emotion of the moment – hitting either cat with a broom, cardboard, or cushion will not be effective.
if you have help
DO ask your "helpers" to speak in quiet, "happy" voices. Have someone try to divert the cats' attention with a wand toy or laser pointer. Be ready to slide your barrier in to block visual contact as soon as the cats are momentarily distracted.
DO have your "helpers" open the door to a room where you can herd one of the cats to. If there are additional materials for barriers (cardboard, broom, sofa pillows), have them herd one cat into a room while you work with the other or vice versa.
Other tools in the indoor cat fight
Spray bottles with water – these may stop some cats in their tracks but be warned there are cats that will keep going even if you soak them down. The spray also means you will need to get close to the cats and may be a casualty of redirected aggression.
Noise makers – Cans with pennies can be effective to distract the cats. Avoid the use of really loud noises such as air horns – in close quarters, these will be really loud, adding fear to already heightened emotions.
Rattling the food container elicits a positive emotion. If you can distract the cats and separate them, you can try and lure them with treats into separate areas.
be proactive!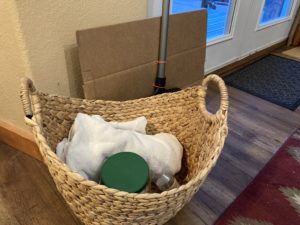 If you are introducing cats or trying to correct redirected aggression due to, say, outdoor cats, have some "emergency" stations set up in areas close to where aggressive encounters may occur. Stock each ER station with:
A piece of sturdy cardboard – you can make a "paddle" by attaching it to a pole. This will keep you out of the line of fire as you try to herd a cat.
A thick, large towel
A jar of treats and a can of pennies
A spray bottle of water