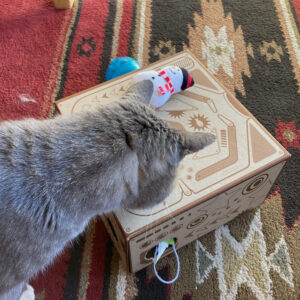 Giving your cat a chance to play is one of the essentials of a cat-friendly home. In this instance, we are not talking about the social play of affiliated cats – you know, where the cats wrestle and chase each other. This post is about allowing your cat some "hunting practice".
Giving your cat a chance to play
Object Play
Kittens start to become more interested in playing with objects around 10-14 weeks of age, although they will certainly continue to chase and wrestle with each other. Object play helps develop problem-solving skills they can use in getting food – if they are wild, it will help them hunt. Object play also helps them hone and practice the skills they need to catch prey.
Object play is what it says it is – the cat engages in exploring and manipulating an object. Even if you are holding the "Da Bird" wand, your cat is playing with an object – "Da Bird". Most of the play that we engage in with our cats is not social play. It is "object play".
We humans can easily mistake fluttering our fingers and wiggling our feet as invitations to social play with our cats – don't be fooled: our cats see our hands and feet as objects, and will attack with unsheathed claws and sharp teeth.
Giving your cat a chance to play – toys
Cats are born hunters. In the wild, they spend most of their waking hours seeking food. The object play that they engaged in as kittens helps them pounce and trap mice with their paws.
Crinkly balls, catnip mice, plastic rings – these provide opportunities for exploration and manipulation. Try to arouse your cat's predatory nature through textures, scents and sounds. Consider the tactile appeal of the toy – is it mouse-sized?
Change toys out regularly to keep kitty's interest.
"Marinate" sets of toys in plastic boxes with some catnip, silver vine or tartarian honeysuckle sawdust to stimulate your cat's sensitive sense of smell.
Bells and chirping toys can get your cat's interest.
Some cats like pulling toys out of boxes.
Games we can play with cats
When giving your cat a chance to play, mimic how prey moves. Watch a video on the Internet of mice – they move in short spurts, zigzagging around.
How to Play the Game
If you are using a wand toy like "DaBird", attach a mouse toy to the clip at the end.
Pull it past your cat in spurts; zigzag a little.
Avoid flicking the mouse toward the cat – a mouse runs away from a cat!
Once your cat grabs the mouse, stay still.
He should let up after a while – that's when the "mouse" makes a run for it and the game is on again.
Giving Your Cat a Chance to Play – Food Games
Food puzzles elicit foraging behavior from cats. It may take your cat a while to engage in this if he is free-fed. You may want to consider meal- feeding and making puzzle time a meal.
There are many puzzles you can make or buy. Pick one that suits your cat's personality.

Tossing treats or your cat's dry food encourages him to use his sight, hearing, and smell to locate the food item. Be sure to include this in his daily calorie count.
If you have more than one cat playing treat toss, assign each cat a "runway". This will avoid scuffles and ensures that everybody, from young active cats to seniors, successfully hunt down the food.
the emotions of play
Physical play is fun. Your cat enjoys her catnip mouse – it smells good and it is just the right shape and size for her to toss and dance around with. Food puzzles are more like us playing games – they are still fun but depend on some learning and memory. It is still satisfying to get the treat or pull the mouse out of the hole.
Frustration
Play should be challenging but not impossible to get the prize! If the task is too hard, cats, like people, become frustrated, give up, or may become obsessed with trying to get the unattainable prize.
A recent survey-based study looked at the use of laser light pointers for play and the occurrence of "abnormal repetitive behaviors" linked to feline compulsive disorders. The abnormal behaviors included:
chasing lights or shadows
staring "obsessively" at lights or reflections
spinning or tail chasing
fixating on a specific toy
The research team found significant links between frequency of Laser Light Play (LLP) and these behaviors. However, only half of the cat owners surveyed actually used a laser pointer to play with their cats and those that did, spent more time playing with their cats using other toys. (Kogan, L.R.; Grigg, E.K. Laser Light Pointers for Use in Companion Cat Play: Association with Guardian-Reported Abnormal Repetitive Behaviors. Animals 2021,11, 2178. https://doi.org/10.3390/ani11082178)
LLP is thought to be frustrating for cats as they can't catch the light. In my experience, the laser light is interesting initially and then cats grow bored with it – after all, they can't catch it.
If your cat enjoys playing with a laser pointer, be sure to end the session with the satisfaction of catching the prize – direct the light to target a favorite toy or treat.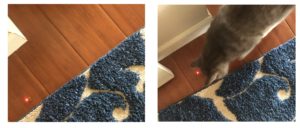 Computer games for cats and videos of mice and birds fall in the same category as LLP. The cat cannot physically catch the prey on the screen and finds this frustrating. Some comments on these videos often remark that the cat is obsessed with the video!
Giving your cat a chance to play is important for his mental and physical welfare. Engage your cat with toys at the end of a wand or give him the whole body experience of toys he can lick, kick, manipulate and smell. Ditch the computer games and videos – let your cat have the satisfaction of using his touch, scent, vision, and hearing to catch the prize!
Want to keep up with the world of cats? Subscribe to The Feline Purrspective!