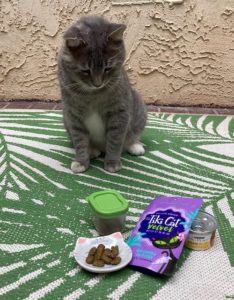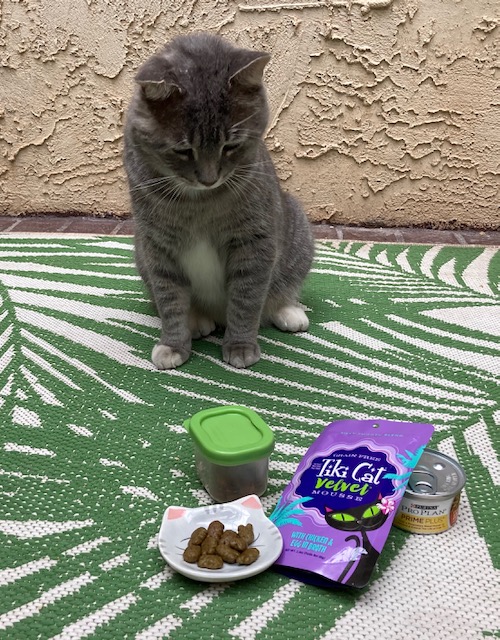 Cats are notorious for being picky about their food. Googling "finicky cat meme" brings up pages of cats turning down food after the owner has offered 3-4 different types. Morris the Cat was the focus of the 9Lives cat food advertising for years – he would only eat 9Lives. The pet food industry has capitalized on this image of a picky eater with many selections of food – textures, tastes, flavors.
Cats in the wild have far ranging tastes and will eat anything from bugs to bunny rabbits. So, what is this "finicky cat meme"?
In a previous post, we visited some facts about cats and how they are designed to eat – small stomachs digest mainly meat and cannot hold a lot at once. Hence the cat's lifestyle – most of his waking hours are spent prowling and looking for prey.
You say, "OK, I get it – I need to feed 4+ meals a day and puzzle feeders can help."
Is there more to the "finicky cat meme"? Look at the "Feline Facts" below.
Mom knows best…
Kittens learn food preferences from their mothers.
Cats have good taste…
Cats can "taste" amino acids and will head to food that will satisfy their needs (in general)
Fresh is best…
Bitter receptors on your cat's tongue and in her oral cavity alert her to the bitterness resulting from decaying meat. A solitary hunter cannot risk a bad meal – she will not be able to hunt if sick and will starve.
The Need to Feed…
Your cat requires protein every day. Protein cannot be stored like fat, if your cat does not eat, his body will start to get protein from his muscles. Cats cannot fast more than 2-3 days.
The Pleasure of Dining Alone…
Although cats can live in groups, they are not social eaters and prefer to take their prey to a secluded place where they can eat in peace.
The Dining Experience…What's on the Menu
How to feed the "finicky cat"…
Offer a SELECTION of high protein foods – see what your feline gourmand prefers. (try 3 foods at a time -you can use one of those divided plates).
CHOOSE FOODS WITH STRONG AROMA (e.g. fish), again playing on the cat's well-developed sense of smell.
OFFER WHAT YOUR CAT WILL EAT IN ONE SITTING. Once protein starts to deteriorate, the food may become bitter and she may not eat it.
OFFER BOTH CANNED AND DRY FOODS – textures and size of food can be important; if your cat ate dry food as a kitten she may prefer dry food.
Because taste receptors work best at 86 degrees F (30 degrees Celsius), refrigerator cold food may not be appealing. A little HEATING (careful with that microwave – a few seconds is often all you need) will release the aroma of the food and make it more appealing
The Dining Experience…Where to Feed Your Cat
Cats prefer to dine alone. Choose a place out of the way where your cat can view things while she eats – perhaps a corner near the kitchen. If you can, keep cats out of sight of each other when feeding.
The "Kitty Diner" – feeding and carrier training all at once!
This is a solution I arrived at having 4 cats and a small townhouse. The cats eat their canned food meals in their carriers. Because they are in their boxes eating, they are out of sight of each other and I can feed them in a relatively small area. The bonus is that they have a better attitude toward their cat carriers when we need to travel.

Unsightly carrier? Try a carrier cover. Pick something that coordinates with your decor. If you use fleece or felt, you don't have to hem anything. You just cut a square and cut a slot for the handle, if you like. This also helps with vet visits since the cover makes the carrier dark like a wildcat's den and your cat feels more secure.

When to call in the veterinary team…
If your cat is losing weight
If you cat is vomiting frequently
If your cat has frequent diarrhea or you feel she may be constipated
If your cat has not eaten for 24-48 hours – So is she truly not eating? Is she producing poop?
If she is pooping, she is eating something – maybe not enough. Consult your vet if there is no poop in the litter box for several days