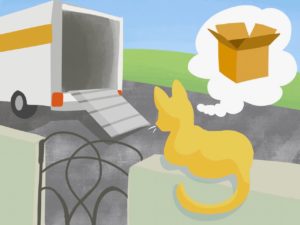 Cats and boxes are a purrfect combination. An enclosed space like a box can be a safe place, help keep a cat warm and give him a vantage point to ambush "prey" (unfortunate insects, catnip mice…). Boxes are also popular with other animals – big cats are often given boxes for enrichment at zoos and refuges; dogs also like boxes to play in but some may tend to chew the box up!
Cats will also sit on just about anything, comfortable or not. Anyone who does craft projects well knows that once the fabric is out to be cut, a cat will be sitting on it soon enough. Years ago, cats sat on newspapers if you tried to spread the paper out on the table – nowadays, they park on computer keyboards. Some of this is attention-seeking behavior – Zelda only lets me type so long Sunday mornings before she gets up on my desk and threatens to contribute to the post if I don't take her for her morning walk.
In 2009, the USPS came up with the Christmas slogan, "If it fits, it ships". A few years later, a variant of the slogan became an Internet cat meme: "It it fits, I sits". This gave rise to posts of cats in all sort of places, from egg cartons and shoeboxes, to bowls and sinks.
The Internet exploded again in 2017 as people used tape to outline squares on the floor for their cats to sit in. Cats were "trapped" in all manner of taped shapes, with cat experts offering explanations ranging from cats reacting to new smells (from the tape) to survival instinct, where the cats must investigate something new (the taped square) to determine if it poses danger to them. Some felt that the taped square offered the cat a sense of security, much like a real box.
The phenomenon did not stop here – in 2020, during the COVID pandemic, a woman in the Philippines photographed stray cats practicing "social distancing" – the cats sat on circles painted on the ground 6 feet apart outside a food market.
cats and boxes: optical illusions

It is not surprising that cats in taped squares became the subject of a research study investigating cats' responses to optical illusions. In a two month study in June-August of 2020, researchers at Hunter College enrolled over 500 cat owners to participate in a study to assess cats' responses to a taped square, a Kanizsa square (which gives the illusion of a square), and a control figure.
Enrolled owners were sent booklets containing pairs of these shapes that they affixed to the floor. The owners then took videos of their cats' responses to the shape-pairs and submitted the videos to the research team. They were to do this once daily for 6 days.
The results found that of the 30 cats that completed all six trials of the experiment, only nine of them "participated", that is, sat in one of the shapes. These cats were just as likely to sit in the taped square as the Kanizsa square. Only once did one of the cats choose to sit in the control shape.
What does this tell us about cats? Are they susceptible to the optical illusion of a square? Do they recognize it as a square? I think more research will have to be done:
Only 9 out 30 cats actually sat in the shapes.
Cats are not as tall as we are and don't see well close up. Can they see the squares from their vantage point?
I, for one, would like to know how many cats will voluntarily sit in a taped outline – I tried leaving a hula hoop out on the floor to see if any of my four cats would voluntarily sit in the circular outline. I did not have any takers!
This study is the first to use "citizen scientists" (the owners) to observe the cats in their home environments, thereby avoiding stress-induced behaviors that cats can exhibit in unfamiliar settings, such as a laboratory.
Back to cats and boxes…
Cats are practical. They prefer their owners to their owners' T-shirts. I feel that they would prefer a physical box to a taped outline. A box is a great source of enrichment – it can be a bed, a den, it can be place to hide while ambushing a toy mouse going by. Shelter cats acclimate to their surroundings more quickly when provided a box to hide in.
Boxes that are too small to allow a cat to hide may make him feel good by putting physical pressure on his body, like when we wedge ourselves in the corner of the sofa watching a favorite TV program. Pressure on soft tissue has been shown to promote relaxation and reduce anxiety in both humans and animals.
So, make sure your cat has a safe place – a place he can call his own, a place that is secure, secluded, a hiding place to retreat to, warm in the winter, cool in the summer. It can be a cardboard box in a closet or in a secluded corner!