Identifying signs of cat dementia is not always straightforward. In the hubbub of daily life, behavior changes can be subtle and go unnoticed until they are more severe.
Changes in behavior can indicate if your cat's mental state has changed. The acronym VISHDAAL summarizes the behavior changes we need to observe to care for our senior cats.
V = changes or increase in vocalization
I = changes in interaction with us and other pets
S = changes in sleep-wake cycle: restlessness, night time activity
H = housesoiling
D = disorientation and confusion
A = changes in activity
A = anxiety
L = learning and memory
Three cats – three outcomes
rupert, 18 year old neutered male siamese

---
I had two senior Siamese cats when I had my first child. A first-time mom, I was frazzled, dealing with the completely new experience of parenting and was not paying as much attention as I should have to my cats.
One day, an acquaintance asked why one of the cats, Rupert, was sitting on the kitchen counter, in a corner, facing the wall. I had been aware that he did that sometimes but when I paid closer attention, I found that he would eat in the morning, use his litter box and then spend the day on the counter, facing the wall. He would come down to eat, drink, and use the litter box but always returned to the counter.
Behavior Changes – signs of cat dementia?
I – Rupert was no longer interacting with us.
D – He seemed confused and "out of it" – sitting on the counter all day
A – His activity had changed – he did not move much from the counter
Diagnosis:
Rupert had lost quite a bit of weight, although he was eating well. My vet diagnosed him with hyperthyroidism, which was a new disease in cats at that time.
Outcome:
Use of radioactive iodine to treat the disease was pioneered about 10 years earlier but it was not commonplace. Surgery was an option but at 18 years of age, Rupert was not a good candidate for surgery and we elected euthanasia due to his declining Quality of Life.
The Takeway:
I suspect that Rupert had moderate to severe cat dementia. The symptoms were most likely apparent earlier and I just did not recognize them. Nowadays, drug therapy for hyperthyroidism is readily available – methimazole is an FDA approved treatment for hyperthyroid cats. Perhaps treatment of the hyperthyroidism would have reduced the symptoms of cat dementia enough for Rupert to have had some more time with us.
Athena, 16 year old spayed female

---
Athena had been slowing down over the past year, was not eating as well and was spending most of her time sleeping. We had provided her with steps to access window perches and our bed; we also provided her with a heated bed.
Behavior Changes – signs of cat dementia?
I – Although still willing to play, Athena was interacting less with us; she had previously been a "nosy, busybody" kind of cat.
A – Athena no longer went on her daily walk and was less active in general
Diagnosis:
Diagnostic blood work did not show any significant changes over the past year. Athena did not show other signs of cat dementia and would still learn new tricks when hungry for treats.
X-rays showed moderate to severe arthritis in one of her hips and knees. We decided to treat her arthritis pain with the drug gabapentin.
Outcome:
Treatment for her arthritis pain has been a game changer for her; her activity level has increased, her appetite has increased, and she is back to "being in your face" when she wants something.
The Takeaway:
Regular checkups and treatment of chronic conditions can make you and your cat happier! Some symptoms typical of dementia may be due to treatable, medical conditions.
Marley, 15 year old neutered male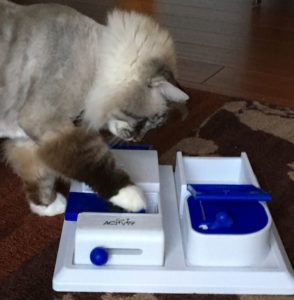 ---
Marley is a friendly, affectionate cat with good health overall. In the past several months, Marley showed some of the behavior changes that we need to monitor in senior cats.
Behavior Changes – signs of cat dementia?
I – Marley had become more clingy than usual and more interactive
D – He seemed confused when playing the nightly game of "treat toss" – he seemed to forget that he was chasing a treat!
A – He did not want to walk outside with us (which he has been doing for years).
A – He seemed anxious and a little fearful. His interactions with the other cats became timid.
Diagnosis
Marley's senior exam and blood work did not reveal any abnormalities other than a slight decline in kidney function which could be expected at his age.
Marley appears to have some mild cat dementia. Since these changes were mild, we decided to try SAMe, a dietary supplement. SAMe has been shown to be effective at reducing symptoms of dementia in cats in the early stages of cat dementia.
Outcome
About 2 months have gone by with daily supplementation. Marley is taking his daily walk again and is not as clingy with his humans. He is no longer stand-offish with the other cats and is "catching" his treats again when we play the nightly treat toss.
A Final Word…
Cat dementia cannot be cured but it can be managed. With early diagnosis, appropriate environmental modifications, dietary supplements, therapeutic diets, and medication can help can reduce the symptoms of dementia and improve Quality of Life for both you and your cat.
Want to keep up with the world of cats? Subscribe to The Feline Purrspective!