How do you tell if your cat is fat?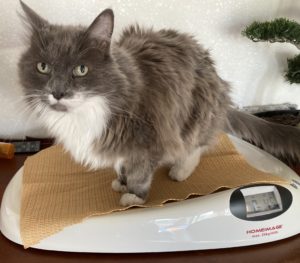 You can weigh her. The easiest way to do this is to purchase a baby scale. There are many brands online for purchase – check the customer reviews. You will not be putting the scale through the heavy use a veterinary clinic does, so one of the less expensive ones should work. I prefer the style that does not have a separate tray – these do not "tilt" if your cat backs up or steps on the edge.
But weight does not tell the entire story…
The Body Condition Score – how do you tell if your cat is fat?
assigns a number between 1-9 to your cat
uses your cat's profile
uses how much fat covers the ribs
uses how big is the fat pad on her belly
a score of 1 is skeletal
a score of 9 is very overweight
a score of 5 is JUST RIGHT!
The BCS ( Body Condition Score chart ) in 3 steps
Look at your cat from overhead
Look at your cat from the side
Feel your cat's ribs
Your Cat from Overhead – your cat should have a "waist" between the end of his ribs and his hips

Your cat from the side – your cat should have a "tuck" when seen/felt from the side – this is separate from the loose flap of skin on the belly

Feel your cat's side with FLAT fingers – you should be able to feel her ribs; there will be small layer amount of fat
If you have to "dig" (turn your fingers in ) a little, her score may be a 6 or 7
If you can't feel her ribs at all because of the fat covering, she is most likely a score 8 or 9 – she will have a rounded belly with an easily felt fat pad.
if your cat is long-haired, it is much harder to score her visually. You will have to feel her waist and "tuck" through the fur.
Muscle Condition – part of your cat's body condition
How do you tell if your cat is fat? Check her muscle condition.
Use your fingers to feel the muscle along either side of the spine.
What you are feeling for is the thickness of the muscle.
A healthy young cat's back muscles will feel like the outer edge of the palm of your hand.
As your cat ages or becomes sick, the muscles will thin out and feel more like the balls of your hands (MILD muscle loss).
Further aging and disorders like chronic kidney disease can reduce muscle mass further. The muscle will feel more like the backs of your hands (MODERATE muscle loss).
With very old or very sick cats, the vertebrae and pelvic bones become more pronounced and feel more like your knuckles (SEVERE muscle loss).
You can assess your cat's muscle condition when you are stroking her – think of it as a back massage!