The Cat Friendly Home: Guiding Your Cat's Scratching Behavior
You know that scratching is a normal cat behavior – but does she have to scratch the new sofa you spent hundreds of dollars on? Should you have her declawed?
Sharing Your Home with a Clawed Cat…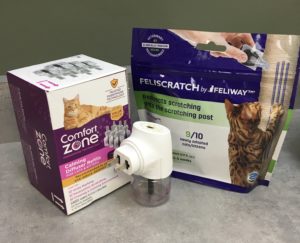 To guide your cat's scratching behavior, we have to communicate with him and let him know where to scratch.
Cats communicate in a large part by smell ( A Cat's world: Smell) Pheromones are chemicals that convey messages between members of the same species – they are detected by smell. There are several feline pheromones that have been synthesized and are commercially available.
We can use facial pheromones and interdigital pheromones to guide your cat's scratching behavior.
Getting the message across..
Feliway Classic tells your cat that this is familiar territory and there is no need to mark it – DON'T SCRATCH HERE
Feliscratch gives an olfactory as well as visual message (scratch marks) that says – SCRATCH HERE
The Plan…
Place a scratching post near the area that is being scratched.
Apply Feliscratch to the scratching post
Using Feliway Classic (or Comfort Zone Calming) spray, spray the areas where scratching is not desired. You may wish to spray a towel or throw and place this on or near the scratched area.
You will need to apply these daily for at least a week. After a week you can apply as needed.
Facial Pheromones
This pheromone is released when your cat rubs his cheeks against things, say the corner wall. He is marking the area as a safe place.
Feliway Classic and ComfortZone Calming come in diffusers and spray.
Appeasing Pheromones
There are synthetic versions of the pheromones released by the nursing mother cat. This pheromone assures the kittens, blind at first and unable to move fast, of their mother's presence. It helps the litter mates to bond together. This has practical uses – it helps keep the kittens together if Mom needs to go hunt.
Feliway Multicat and ComfortZone Multicat control come in diffusers.
Interdigital Pheromone
This pheromone is released by glands in your cat's paws when he scratches. It helps mark boundaries and, combined with your cat's signature scent, lets other cats know "Mr. Fuzzy was here at noon"
Feliscratch comes in a box of pipettes. The liquid in the pipettes is applied to a scratching post to encourage your cat to scratch.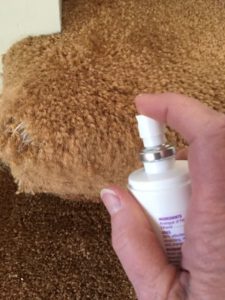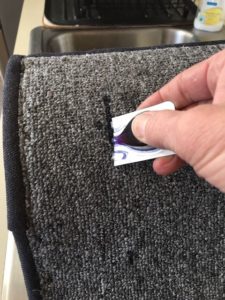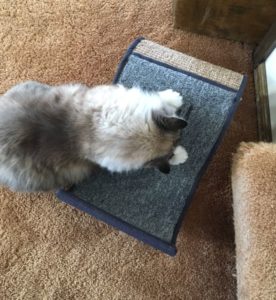 During the Training period, you may wish to have nail caps (Soft Paws) applied to your cat's claws. These are soft plastic caps that are glued onto your cat's nails.
Applied every 4-6 weeks
Use permanent adhesive
But…some cats just don't like them and chew them off!
Nail Trims for the Comfort and Safety of You and Your Cat…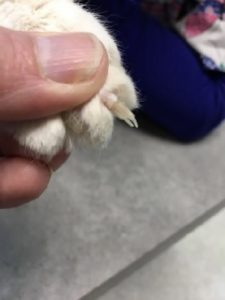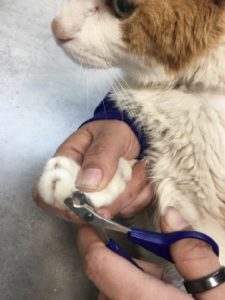 Start nail trimming early in life
Use positive reinforcement: treats, play, grooming, head rubs
Trim every 4-6 weeks
When trimming some cats, trim 1-2 nails at a time and do the trim over a week
As cats get older, their nails may get thicker and their joints stiffer, so they don't groom as much. The nails can grow into the paw pad. Nail trims can improve these cats' quality of life!
Declawing – an amputation
The Details of Declawing
Removal of the last bone of the cat's toe
There are "good" and "bad" declaws: "good" declaws disarticulate the last (3rd) joint
Risk of lameness and behavior problems due to nerve damage
Weight is no longer supported by the junction of the 2nd and 3rd bones – it is supported by the end of the second bone which is painful.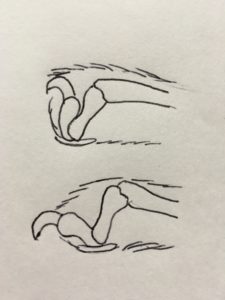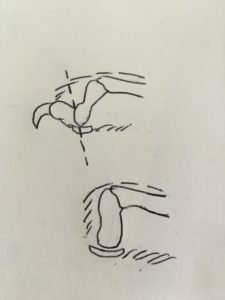 Guiding your cat's scratching behavior can be a rewarding experience – after all, YOU are communicating with ANOTHER species!
Offer a variety of scratching stations located in strategic places:
Near doors and windows
Where the people hang out
Near the litter box
Near the sleeping area