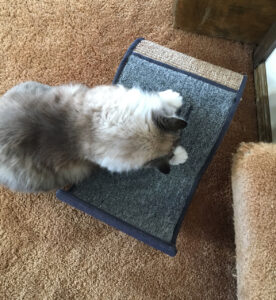 Sometimes, even after you have invested in several scratching posts, your cat will scratch somewhere you don't want her to. What is going on?
Earlier we learned that cats scratch to maintain their claws, to stretch and to communicate with other cats by leaving a scent mark. Scratchers need to be "deployed" where they will best satisfy these needs.
How to deal with unwanted scratching
Redirect the cat to scratch on an "appropriate" surface.
Respond to any scent messages.
Use "aversives" to discourage "unwanted scratching".
Offer alternate marking options for your cat.
Trim nails to minimize damage.
Redirecting unwanted scratching
This basically means we place a scratcher close to or at the place your cat is scratching. We will "sweeten" the deal by applying an "attractant" to the scratcher – catnip, silvervine, honeysuckle. We can also add some treats and reward kitty for using this scratching alternative.
Say your cat starts scratching your sofa. You notice a big orange cat outside the picture window where your sofa sits. Some things you may consider:
Put a cat tree over by the window to give your cat a vantage point and a place to mark by scratching.
You may want to move the sofa away from the window.
Reduce visual contact with the intruder – cling film on windows or prevent cats from coming into the yard to the window (fence rollers, motion-activated sprinkler)
Reply to any scent messages
You just bought a new sofa. Your cat may feel that the new sofa needs to be "broken in". A little scratching leaves a purrsonalized "greeting". And then once Kitty scratches there, of course, he better "top off" that message regularly so that it is up-to-date.
Start with providing an acceptable scratching surface at or near the area of "unwanted" scratching. Use attractants as needed for your cat.
We need to let your cat know that this sofa is "safe" and "already marked". We have a few options to achieve this.
Use a synthetic pheromone spray such as "Feliway" Classic or Comfort Zone Calming. These are synthetic versions of the secretions cats deposit by rubbing their cheeks against things. To avoid staining your sofa, we can spray a throw or blanket that we drape over the sofa. Initially, you will need to spray this daily.
Or – relocate the sofa close to an electrical outlet and use the "Feliway" Optimum diffuser. This novel blend of feline pheromones has been shown to reduce feline stress and unwanted scratching.
Or – you may use the blanket your cat sleeps on and drape that over the sofa. You will want to have a second blanket that he sleeps on so that you can swap them out daily at first.
"Aversives" – things most cats don't like
Upside-down carpet runner: the spikes face up and are not comfortable to walk on! Place the upside-down runner where your cat may stand to scratch, say under the sofa that is getting scratched. Place a scratching post nearby on a "comfortable" surface.
Double-sided sticky tape (Sticky Paws is one brand). This works well on fabric and carpeted surfaces. It is applied to where your cat is scratching.
Aluminum foil can be wrapped around the furniture or placed on the floor.
Carpet runner or office chair mats (right-side up) may work if your cat is scratching at the carpets around doorways. There are also anti-scratch mats made for this purpose.
PLEASE avoid using things like garlic and essential oils to discourage scratching – these can be toxic to cats.
A Word about Punishment:
Spray bottles, SSScat spray deterrents, shock mats – these may seem effective but all run the risk of making your cat fearful and anxious. You are punishing the cat for an instinctual behavior – she is not doing anything wrong; she is just using a surface you don't want her to. It would be better to restrict her from the area than use punishment.
Alternative Marking Options for your Cat
Cats scent mark using glands in their cheeks, lips and base of the tail. We think that these pheromones give cats a message of safety and security – this place is "marked". There are self-grooming arches that cats can brush under and grooming combs that attach to wall corners, table legs and cabinet corners. Your cat can mark these objects by rubbing her face, head and base of her tail in these areas.
In multi-cat homes, cats may scratch to establish their right-of-ways inside the home. Strategic placement of a few self-grooming stations may help reduce scratching by providing another way of marking. ( see T. DePorter and A. Elzerman, Common Feline Problem Behaviors: Destructive Scratching Journal of Feline Medicine and Surgery (2019) 21, 235–243)
Minimize damage with nail trims
Train your cat to have her claws trimmed using positive reinforcement. You may need to trim claws every 4-6 weeks. Trimmed claws should not damage surfaces as much as untrimmed claws.
cats just want to have fun!
Cats will sometimes scratch to work out the "zoomies" or to get your attention. Scratching carpeted stairs often falls into this category!
If your cat enjoys scooting along stair risers: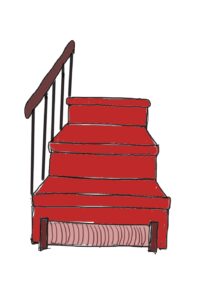 Consider blocking the stairway with a tall pet gate or DIY barricade.
Turn a replacement sisal post on its side and put some ends on it heavy enough to keep it in place but low enough to give the "stair scratching experience". Push it up against that bottom step, and let the fun begin. Don't forget the catnip and treats!
Claws come with your cat. He will scratch to maintain his claws, stretch, and leave scent messages. To deal with unwanted scratching:
direct him to an appropriate scratcher using catnip/silvervine and treats
use pheromones

use aversives as needed
provide other ways to scent mark
trim his claws regularly.
Avoid punishment – instead be a cat whisperer and try to communicate with your cat.