Cats have many more odor sensitive cells in their noses than we humans do. They also have a vomeronasal organ (VNO) in the roofs of their mouths to process odors. Cats communicate by smell.
cats communicate by smell
This post was originally published May 2, 2021 and has been updated to reflect new content.
For a cat, odors can be associated with a particular place or individual animal, identifying that place or animal.
Another way cats communicate by smell is through semiochemicals. Odors can contain semiochemicals, molecules that carry "messages" from one organism to another. The organism receiving the "message" responds with a change in physiology or behavior. For example, there are insect traps that use hormones that simulate the type of scent produced by the female insect. Male insects are lured into the traps, preventing them from mating.
Semiochemicals that carry "messages" between members of the same species are called pheromones. For cats, pheromones are used to mark territorial boundaries, advertise that a cat is ready to mate, or send greetings. Lactating mother cats also produce a blend of "appeasing" pheromones, that make kittens feel safe and reassured when their mothers are nearby.
Cats release pheromones from glands in their bodies. These glands can be found in…
the lips
the cheeks
the pads of the feet
at the base of the tail
the area surrounding the teats in females.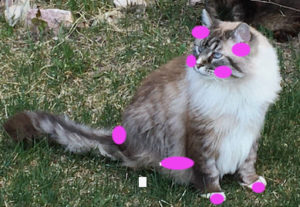 Cats communicate by smell -pheromones
When your cat rubs his cheeks against furniture or that corner wall, he deposits pheromones there. Researchers have separated secretions from the sebaceous glands in your cat's face into 5 pheromone-containing fractions. The "F3 fraction" is thought to be a friendly greeting, marking the area as safe.
Cat Appeasing Pheromone (CAP) is released when the mother cat nurses her kittens. It is a message to the kittens that they are safe and secure – after all, mom is there!
Cats also release pheromones when they scratch, marking territory with another pheromone, FIS or feline interdigital semiochemical. The cat making the scratch marks also leaves behind his own individual scent, giving the next cat who comes along an idea of who left the pheromone message. As time goes on, the pheromones/scents decay. This change in pheromones/scents notifies the incoming cat when the previous cat was there.
using pheromones to communicate with your cat
It is not surprising that synthetic versions of the F3 fraction of the facial pheromones and CAP have been made with the intention of calming cats and reducing conflict in multi-cat households. These products are available as diffusers or sprays.
Facial Pheromones F3 Fraction
Diffuser: place in areas you want your cat to identify as safe and secure, for example, sleeping areas. You may not need to use the diffusers all the time – after all, your cat or cats are most likely marking these areas themselves. However, the diffuser could give an added boost in times of increased stress, such as home renovation.
F3 spray can help with urine marking. Clean the marked spots with enzyme cleaners (eg. Tide), followed by rubbing alcohol. When dry, spray the spot with one of the F3 sprays.
The F3 spray is also useful to discourage scratching. Try spraying the area you DON'T want scratched with the F3 spray and place a scratching post nearby.
BSerene spray features the F3 fraction combined with catnip oil to promote calm behavior.
Cat Appeasing Pheromone

Diffuser
This product can be useful in multi-cat households when introducing a new cat. Place the diffuser in the common areas where all the cats will congregate.
You may not need to use this diffuser all the time but it can give a boost during times of stress, for example, when one cat returns from a veterinary visit.
The BSerene brand offers a diffuser that contains both F3 and CAP.
A product called Feliscratch contained a synthetic version of FIS. Feliscratch was applied to the scratching post to encourage cats to use it. This product has recently been pulled off the market due to flagging sales.
No Feliscratch?
Make scratchers appealing with treats or catnip
If your cat will knead a small fleece blanket, it is possible that this blanket may have FIS deposited on it.
Placing the blanket near a new scratching post may attract your cat to the scratcher.
Feliway Optimum – one size fits all?
Feliway Optimum is the result of computer simulation and features a single product designed to address urine spraying, scratching, fear, and inter-cat conflict. It is a proprietary blend of specific pheromones that bind to receptors in the VNO in cats. It comes in a diffuser (Reference 1).

How effective are pheromones in communicating messages to cats?
The idea of managing cat behavior using pheromones is appealing. There are no pills to give and you can treat all your cats at once. However, studies aimed at determining whether these products work or not have mixed results (Reference 2).
How receptive an individual cat is to pheromone signals may depend upon her experience (Reference 2). A free-roaming cat or cat who is a member of a multi-cat household will use pheromone signals more than an indoor cat who lives alone. A kitten bottle-fed by humans will not be exposed to CAP like kittens nursed by a feline mother.
In my own experience, cats with a feral background respond more strongly to the pheromone products than cats raised in a human household.
You can think of pheromones as those signs in the library asking you to KEEP QUIET or the NO SMOKING signs – there is always someone who is talking or smoking. Compliance is never 100%.
Since cats communicate by smell, synthetic cat pheromones allow us to add some basic messages when we are trying to change a cat's behavior. Do these products work? The efficacy of these products may depend on the experience of the individual cat. Consequently, pheromones are best used in conjunction with other behavior modifications.
references
De Jaeger, Xavier & Meppiel, Laurianne & Endersby, Sarah & Sparkes, Andrew. (2021). An Initial Open-Label Study of a Novel Pheromone Complex for Use in Cats. Open Journal of Veterinary Medicine. 11. 105-116. 10.4236/ojvm.2020.113006.
Zhang Lingna, Bian Zhaowei, Liu Qingshen, Deng Baichuan. Dealing With Stress in Cats: What Is New About the Olfactory Strategy?. Frontiersin.org/articles/10.3389/fvets.2022.928943, DOI=10.3389/fvets.2022.928943
Want to keep up with the world of cats? Subscribe to The Feline Purrspective!