The Cat Friendly Home: Maintain the Colony Scent
Odors not only tell cats about their world ; they also carry messages from other cats.
Free-roaming cats live in colonies if there is enough food in the neighborhood. Each colony has its own signature scent. Members of the colony identify each other by this scent. This colony scent also marks the core territory of the colony, where the members feel safe, can eat, rest and play.
Our homes are our cat's territory; we are members of our cat's colony. Our homes have the colony scent that makes our cats feel safe and secure.
How do we maintain the colony scent in our homes?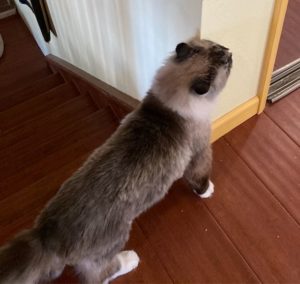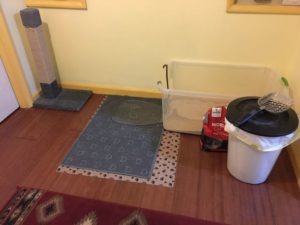 Cats deposit pheromones and signature scents using glands on their faces. You may see your cat rubbing the corner of a wall or furniture; you may also see him rub the same place again later the next day – he is marking the area as safe and familiar.
Placing scratching posts around your home at windows, doors, and near where your kitty sleeps also provides boundary marking. Glands in kitty's feet release pheromones and odors when she scratches which are deposited on the scratching posts.
Litter boxes are also part of the kitty network – urine and feces can carry messages and identify individual cats within the house.
Disturbances in the Scent…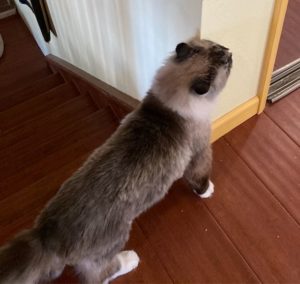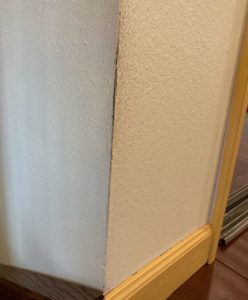 Cleaners
Avoid using strong smelling disinfectant or scented cleaners.
Some of the disinfectant cleaners linger on surfaces for a long time after you have used them for cleaning. Cats can be notorious counter surfers and they lick their paws.
Also avoid cleaners with essential oils – most essential oils are toxic to cats.
Visit the Environmental Working Group site to learn more about the cleaners you're using.
"Whisker Walls"
It is best to leave those "whisker walls" where the kitties rub their cheeks untouched for as long as you can. If they are just too unsightly, try unscented castile soap (made out of plant sources) followed with a rinse. After cleaning, spray with Feliway Classic (Comfort Zone Calming)
Litter Boxes
Cleaning the litter tray can be done with mild cleaners, for example, dishwashing soap. If you do use bleach, make sure to dilute it and rinse the tray thoroughly. The CDC recommends diluting 1/3 cup unscented household bleach with 1 gallon of water for cleaning surfaces.
Avoid cleaning all the litter boxes at once – stagger the cleanings. Scooping daily if you use clumping litter, will allow you to empty and clean the litter box ever 2-4 weeks.
Hydrogen peroxide (3%) has good disinfecting properties and breaks down into just oxygen and water.
Start with a box that has had all solid waste and old litter removed.
Spray a fine coating of hydrogen peroxide on the inside of the box. Allow it to sit for 15 minutes.
Scrub the inside thoroughly. Completely rinse the hydrogen peroxide out and dry the litter box before replacing the litter.
Veterinary visits and hospitalization
When your cat goes to the vet, make sure that some of her familiar bedding goes with her for reassurance. If you have other cats, take along some other bedding the other cats sleep on in a plastic bag for the trip home. Ask that it be put in your cat's carrier before picking her up. This helps maintain the colony scent when your cat is on her way home.
My youngest cat formerly was a street cat. He will be aggressive with the older cats returning from a day at the vet if we do not include some of his bedding for his roommate to come home with. I also make sure that the Feliway multi-cat diffusers are working in the common areas.
Managing new smells at the front door…
Place footwear and shopping bags at the door when you return home – allow the cats to examine these items before moving them further into the house
Wash your hands before greeting your cat or cats
Change your clothing if you have been in contact with strange cats and dogs
Pheromones help maintain the colony scent…
Feliway Classic (ComfortZone Calming) diffusers help the cats feel safe in their sleeping and litter areas
Multicat diffusers keep harmony in the common areas.
Wipe down new items with a cloth sprayed with the Classic or Calming pheromone.