The Cat Friendly Home: Predictable and Positive Interactions Between Cats and Humans
What is the predictable and positive way to greet a cat?
What makes cat-human interactions predictable and positive?
Greet your cat in his language…
When there is sufficient food in an area, free-roaming cats will often live in colonies. Cat colonies are groups of related cats. The core of the colony is the mother cat, her kittens, her sisters and their kittens.
Each cat colony has a scent…
Cats live in a landscape of odors – their sense of smell is 1000 x more sensitive than ours and they communicate by scent. The cat colony has its own scent – each member has this scent.
Scent identifies members…
Colony members often greet each other by touching noses, confirming the "colony" scent.
They also groom each other (allo-grooming) mostly on the head and rub against each other (allo-rubbing). All of these actions exchange scent, confirming the "colony odor" and membership in the colony.
You are part of your cat's "colony" and share the "colony" scent, marking you as a colony member. You also have your "signature scent", that identifies you as an individual to your cat. Greet your cat by letting her smell you and confirm that you belong to the colony.
Your cat may be a highly skilled hunter but he is also a small animal who is prey for larger carnivores such as dogs and coyotes. We are much larger than he is and don't want to scare him and make him feel like prey. If you get on your cat's level, you will seem smaller and not as threatening.
Meet and Greet – A Predictable and Positive Hello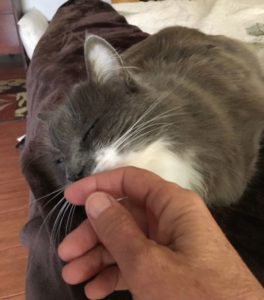 Get on your cat's level by bending down or by interacting with her on a higher surface. Extend a hand or a finger and allow her to smell you.
If she wishes to continue the interaction, she will rub against your hand (allo-rub).
Handle your cat on her head at first. This mimics the "allo-grooming" of friendly cats, where they groom each others' heads.
A friendly or bonded kitty may allow her back to be stroked after accepting a head rub – like the "allo-rubbing" of colony cats.
Your colony membership is up to date!
If you cat does not lean into your hand or rub your hand on greeting, save the petting session for later – like us, there are times your cat does not want to be touched.
Other Predictable and Positive Interactions between cats and humans…
grooming, treat time or play time – Make this POSITIVE – choose something your cat enjoys
have a session the same time each day, say, after dinner or before bedtime
cats are in tune to the household rituals that mark the passing of the day more than the time on the clock.
this "schedule" allows you to communicate with your cat. He will be looking for the clues that tell him that treat time is around the corner – he may show up and solicit the interaction with a chirrup or meow.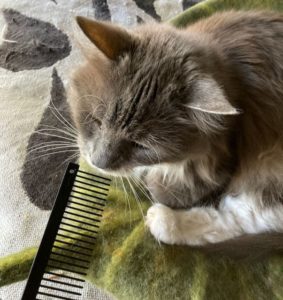 Have more than one cat? Make sure each kitty gets some premium time!
These activities will strengthen the owner-pet bond. This time can also be used to train behaviors that are beneficial to both owner and cat – for example, conditioning your cat to accept kibble in treats to reduce stress when she needs oral medication.
Do you ever wonder why cats like us?
People are the ultimate resource – we provide food, shelter, play and safety.
To our cats , we may seem to be large, clumsy and somewhat unpredictable cats.
Let's eliminate the unpredictability by greeting our cats in their language and providing positive interactions that they can predict.