For a time, I lived in the Florida Keys, about 50 miles north of Key West. Half of the island where we lived was owned by the Nature Conservancy and was a natural habitat of mangrove swamps, alligators, snakes and raccoons. There were some feral cats in the Conservancy reserve.
One summer, there was a litter of 4-5 kittens that we saw playing with their mother near the side of the road. In a few weeks, these cats had disappeared with the exception of one little female kitten, who continued to return to the side of the road. We used a Havaheart trap to bring the small kitten home. It was October so we named the orange and black kitten Pumpkin.
Throughout her life, Pumpkin was prone to bouts of bloody urine and not using the litter box. Antibiotic treatment was palliative at best; x-rays and ultrasounds did not reveal any medical causes. She was affectionate but she did not like the other cats. She seemed happiest when my son took her with him when he moved.
Veterinary medicine for cats has advanced in the past few decades. If Pumpkin were alive today, she might be diagnosed with FIC, or Feline Idiopathic Cystitis. Idiopathic means that although we recognize the condition we don't know the cause of it; cystitis refers to inflammation of the bladder.
Cats that suffer from frequent FIC episodes handle stress differently than other cats – they do not release stress hormones such as cortisol in the same way "normal" cats do.
Cats prone to FIC
have lower levels of cortisol in their bloodstreams compared to "normal" cats.
have higher levels of the "fight-or-flight" hormones.
Like interstitial cystitis in humans, stress contributes to flare-ups of FIC, making a cat sick from stress.
Cortisol is a potent anti-inflammatory hormone – the lack of cortisol can result in increased inflammation in the body, in this case, the bladder.
Ways to Reduce your cat's stress at home…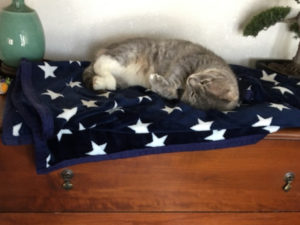 Make sure each cat has a safe place – a place that is secure and secluded, a hiding place to retreat to.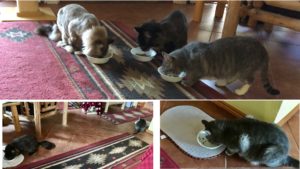 Have several feeding stations, water stations, and litter boxes spread through out the house or apartment.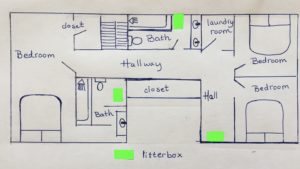 Draw the paths a cat must take to get to her food, water and litter boxes in your house. Is there plenty of room for cats to pass other pets and humans?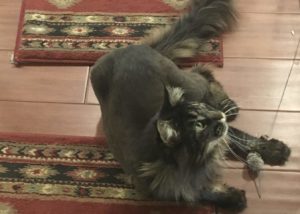 Good kharma with humans.
Greet your cat before handling him or her.
Have a daily routine for grooming and play.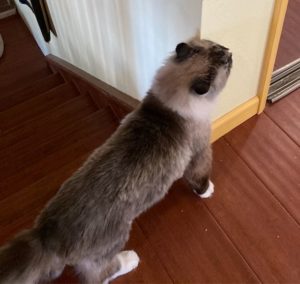 Cats communicate by smell.
Use pheromone diffusers in the safe places.
Don't use of strong smelling cleaners.
Scoop litter boxes daily.
Outside the home – what can make a cat sick from stress
Your cat may view neighborhood cats or other animals coming to the windows and into the yard as threats to his territory. Territorial threats can make your cat sick from stress. Consider…
A cat fence can keep other cats from entering the yard
Have scratching posts at doors and windows so that the resident cats can mark their territory.
A motion-activated sprinkler can help deter animals from coming into your yard.
There is no substitute for appropriate and timely medical care. However, increased stress contributes to flare-ups of not only FIC, but other conditions such as chronic diarrhea and overgrooming.
Pumpkin lived to be 17 years old. She was euthanized due to complications of chronic kidney disease. I wish I knew then what I know now – her life may have been less stressful and more comfortable.