Cats are what we call "obligate carnivores" – they have evolved to eat a diet primarily of animal meat. They have small stomachs, short intestinal tracts, and are designed to eat frequently. A feral cat eats eats the equivalent of 6-8 mice as he hunts from dusk to dawn. In addition to small rodents, reptiles, birds, insects, and rabbits are also on the menu. He consumes the entire prey, including the blood, hair, skin, bones, tendons, and gut contents. These prey are high in protein, have some fat, but little carbohydrate. A feral cat gets about 52% of his energy from protein and 46% from the fat of the prey he eats.
This post is the first in a series that aims to highlight things you need to know when feeding your cat.
Three things to know when feeding your cat
Essential Amino Acids
Amino acids are the building blocks of proteins, those molecules that are used to build and repair tissues and act as hormones or enzymes, among other roles.
Amino acids not synthesized in the body are called essential amino acids and must be consumed in the diet. The 9 essential amino acids required by most mammals are: histidine, isoleucine, leucine, lysine, methionine, phenylalanine, threonine, tryptophan, and valine. (Reference 1)
Cats must consume two additional amino acids: arginine and taurine. (Reference 1)
Taurine (for vision, cardiac muscle function and the function of nervous, reproductive and immune systems). Sources are meat, poultry (in particular the heart) and fish.
Arginine (

for making proteins, stimulating the release of growth hormone and insulin, helps eliminate ammonia from the body).

Sources are animal tissue.
#1. These 11 essential amino acids will be supplemented in cat foods that are formulated according to the AAFCO feeding guidelines.

Feeding Your Cat – Can Cats Digest Carbohydrates?
Cats in the wild eat a diet high in protein and fat, with little carbohydrate. Carbohydrates (grains, corn, potatoes, legumes) are needed to make dry commercial pet foods. Carbohydrates are combined with other nutrients to make a "dough" that is formed into kibble and cooked. These foods certainly are convenient and many cats like them, but can they digest the carbohydrates in these foods?
CATS AND CARBOHYDRATES
Dietary carbohydrate provides glucose to the cells for most species including humans. If there is not enough dietary carbohydrate, proteins can be used as a glucose source via the process of gluconeogenesis. Gluconeogenesis occurs in the liver and is activated for most species during fasting and starvation.
In contrast, cats are obligate carnivores and consume a diet high in protein in the wild. They typically use proteins for energy and produce glucose via the gluconeogenesis pathway, regardless of fasting or starvation. Glucose can be stored in the tissues in the form of glycogen (Reference 2).
#2. Cats have low levels of the enzymes needed to digest carbohydrates in their saliva and gastrointestinal tract. However, recent studies have found that adult cats can digest carbohydrates added to a meat-based diet, providing the starches and grains are processed appropriately, for example, by cooking.
These studies also show that cats can increase or decrease protein metabolism depending on how much protein is available. For this to happen, the cat has to eat a minimum amount of protein. After that threshold (about 15% metabolizable energy in cats) is reached, cats can use carbohydrates to produce glucose, sparing the proteins for other essential processes in the body, such as building and repairing tissues and acting as hormones. (Reference 3)
feeding your cat – make sure your cat eats every day
The Process of Starvation
Cats are designed to eat frequently. When faced with dwindling food supplies, the cat will initially use glycogen for energy. Once glycogen stores are depleted, amino acids are mobilized from lean muscle. Within a few days, the cat's body will start to use fat stores for energy.
The fat moves to the liver to compensate for the fat that would normally be eaten in food. The cat's liver can only process so much fat at a time and, consequently, fat can accumulate in the cat's liver ("fatty liver syndrome") and prevent the liver from functioning properly.
Hepatic Lipidosis – "Fatty Liver Syndome"
The liver of a cat with hepatic lipidosis may triple in size due to accumulation of fat.
Hepatic lipidosis is associated with anorexia (not eating).
The onset can be rapid, maybe 2-7 days.
Hepatic lipidosis can be FATAL!
Treatment of the Yellow Cat
The typical patient with hepatic lipdosis is a cat around 7 years old who is overweight. Clinical signs include lack of appetite, vomiting, diarrhea and lethargy. As the disorder progresses, the cat's ears, mouth and skin may take on a yellowish hue.
Cats with hepatic lipidosis require nutritional support and intravenous fluids to correct dehydration and electrolyte imbalances. Diagnostic bloodwork is done to identify possible underlying disease.
A feeding tube may be passed through the nose into the stomach or placed surgically in the esophagus via an incision in the neck.
With appropriate care, most patients survive although recovery often involves 3-6 weeks of tube feedings.
#3. Please seek veterinary care promptly if your cat does not eat for 24-48 hours. Hepatic lipidosis is less costly to treat and the prognosis is better the sooner treatment starts.

Your cat evolved to be a superb hunter. Along the way, her body adapted to a diet high in animal protein with a unique physiology and metabolism. Here are three things to remember when feeding your cat:
Choose a food formulated for cats to ensure that she will get all the essential amino acids she needs and enough protein.
Cats can digest carbohydrates that have been processed appropriately if they consume sufficient protein.
Make sure your cat eats every day. Seek veterinary care if she does not eat for 24-48 hours.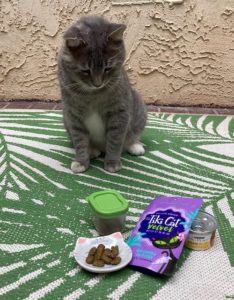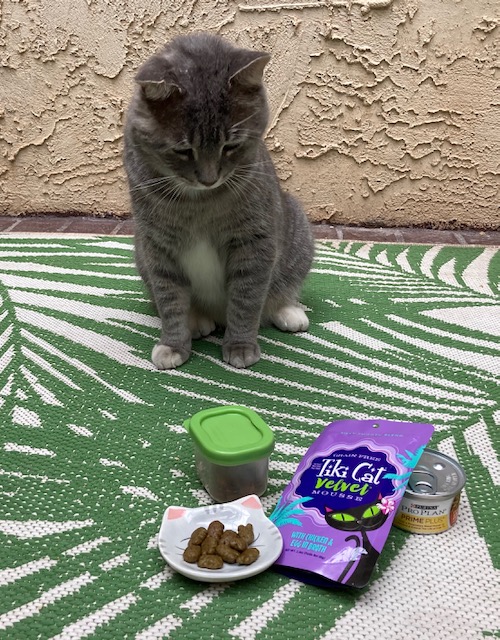 references
1. Danks, Lee. "The cat as a carnivore: proteins, carbohydrate and beyond" https://www.veterinary-practice.com/article/the-cat-as-a-carnivore-proteins-carbohydrates-and-beyond (viewed 4/29/23)
2. Schermerhorn, T. Front. Endocrinol., 03 December 2013, Sec. Clinical Diabetes,Volume 4 – 2013 | https://doi.org/10.3389/fendo.2013.00188
3. Laflamme, Dottie "Focus on Nutrition: Cats and Carbohydrates: Implications for Health and Disease", Nutrition Compendium January 2010 (Vol 32, No 1). https://www.vetfolio.com/learn/article/focus-on-nutrition-cats-and-carbohydrates-implications-for-health-and-disease
Want to keep up with the world of cats? Subscribe to The Feline Purrspective!