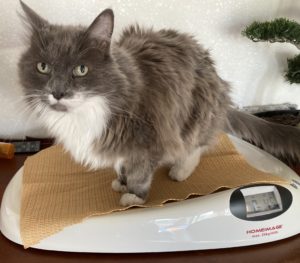 Chronic kidney disease (CKD) is common in older cats. A 2014 study found that 30-40% of cats over age 10 years had CKD. (Reference 1).
chronic kidney disease in cats
Let's take a closer look at what the kidneys do for our cats.
regulate fluid volume in the body
maintain the pH and electrolyte composition of the body.
make renin, an enzyme that helps maintain blood pressure
make erythropoietin, a hormone that stimulates production of red blood cells
filter the blood removing waste products
Nephrons are the tubular structures in the kidney that filter the blood and produce urine. A cat's kidney has about 200,000 nephrons (Reference 2).
Over time, nephrons become damaged and are replaced by scar tissue. Renal failure occurs when less than 25% of the nephrons are functional and the remaining nephrons can't maintain adequate function. The most common cause is an inflammatory process called tubulointerstital nephritis (Reference 3).
The remaining nephrons compensate by increasing filtration rate. The result of this "hyper filtration" is scarring of the tubes in the nephrons and loss of protein into the urine. The "hyperactive" nephrons also release the enzyme renin. Renin triggers the production of the hormone, angiotensin II, that makes heart beat more forcefully and raises the cat's blood pressure. (Reference 3).
Diagnosing Chronic Kidney Disease in Cats
Clinical Signs of Chronic Kidney Disease
Some clinical signs are similar to those of other chronic diseases such as hyperthyroidism and diabetes. Like those disorders, these signs are usually not present until later in the disease process.
weight loss
increased thirst and urination
rapid pulse and breathing
unkempt hair coat
In addition the "kidney cat" may have
lethargy
weakness
poor appetite
bad breath or ulcers in the mouth (occasionally)
Diagnosing Chronic Kidney Disease in Cats
CKD is typically diagnosed by measuring creatinine and SDMA in the blood and measuring the urine concentration (Reference 1).
Creatinine
Creatinine is a by-product of energy-producing processes in the muscles. A healthy cat's kidneys filter out most of the creatinine. As kidney disease progresses, the remaining nephrons filter out less creatinine and values of creatinine in the blood rise.
SDMA
SDMA (symmetric dimethylarginine) is a metabolite of arginine, one of the essential amino acids for cats. SDMA is produced from metabolism of proteins and, like creatinine, is filtered out by the kidneys. Unlike creatinine, SDMA is not influenced by the change in muscle mass. SDMA is more sensitive to the increase in the filtration rate as kidney disease progresses. It will increase earlier than creatinine.
Urine Concentration
As remaining nephrons increase filtration to compensate for the loss of nephrons, the cat drinks more fluid and the urine he produces becomes more dilute. As CKD progresses, urine concentration decreases.
the stages of chronic kidney disease
The International Renal Interest Society (IRIS) has formulated a guide to staging CKD in cats, as well as in other animals. There are 4 stages of CKD. The table below summarizes the values for creatine and SDMA seen for cats in the stages of CKD.
| Stage | Creatinine (mg/dL) | SDMA (mcg/dL) | Comments |
| --- | --- | --- | --- |
| Stage 1 | <1.6 | <18 | Blood values are normal but urine is dilute or kidneys are abnormal on examination or imaging |
| Stage 2 | 1.6 – 2.8 | 18 – 25 | Clinical signs are mild or absent |
| Stage 3 | 2.9 – 5.0 | 26 – 38 | Clinical signs are present but vary in severity |
| Stage 4 | >5.0 | >38 | Risk of uremic crisis |
Signs of Uremic crisis (end stage kidney failure):
Refusal to eat, vomiting, lethargy, confusion (possibly pacing and restlessness), withdrawn, uncontrolled urination or defecation, ammonia-like odor to the breath, seizures (from https://www.petmd.com/cat/conditions/urinary/kidney-failure-cats). Emergency treatment is needed.

other signs of chronic kidney disease in cats
Even if creatinine and SDMA are within normal limits, high blood pressure and protein in the urine may indicate that a cat has kidney disease. Recall that as nephrons "die", the remaining nephrons increase filtration to compensate and blood pressure rises. The higher pressure damages the walls of the tubes in the nephrons and protein can leak out into the urine.
High Blood Pressure
Systolic blood pressures under 140 mm Hg are considered normal; SBP 140- 159 is prehypertensive; over 160 is hypertensive and treatment is recommended. (see "Measuring Your Cat's Blood Pressure: Why and How")
Protein in the Urine
Protein in the urine can be associated with disease processes such as urinary tract infection. Persistent protein in the urine warrants a closer look and the veterinarian will often choose to run a test to measure the urine protein creatinine ratio (UPCR). UPCR < 0.2 are normal; ratios of 0.2-0.4 are borderline; ratios over 0.4 support a diagnosis of CKD.
Diagnosis of chronic kidney disease can be challenging. Clinical signs are non specific and shared by other chronic diseases such as hyperthyroidism and diabetes. Because the kidneys have so much reserve capacity and our markers do not detect it until nephron death approaches 70-80%, it can be easy to miss some of the more subtle indicators of kidney dysfunction. It is important for our cats to have regular exams to assess their overall condition, lab work, and blood pressure measurement. Kidney disease is progressive and not curable, however, early intervention can slow down the process. In the next post, we discuss treatment of Stage 1 through Stage 4 of chronic kidney disease in cats.
references
Sparkes, A. et al. ISFM Consensus Guidelines on the Diagnosis and Management of Feline Chronic Kidney Disease, Journal of Feline Medicine and Surgery (2016) 18, 219–239, https://journals.sagepub.com/doi/pdf/10.1177/1098612×16631234
Sadeghinezhad, J. and Nyegaard, J. Cat Kidney Glomeruli and Tubules Evaluated by Design-Based Stereology. The Anatomical Record, Volume 302, Issue 10, 18-46-1854, 14 May 2019, https://doi.org/10.1002/ar.24144
Grauer, Gregory, Feline Chronic Kidney Disease, Today's Veterinary Practice, February 6, 2015, Issue March/April 2015, https://todaysveterinarypractice.com/urology-renal-medicine/feline-chronic-kidney-disease/