Giving your cat a pill is not difficult if she will readily eat the pill in a treat. However, she may refuse to eat her medication in a treat if the medication is bitter or she does not feel well. Regardless, she needs her medication.
Other Techniques for Giving Your Cat a Pill
What about giving the tablet or contents of a capsule in his favorite food?
Pros
Not very stressful for your cat
Some medications, for example, the antibiotic doxycycline, are associated with inflammation and narrowing of the esophagus when given directly
It is often recommended to open the doxycycline capsule and mix the powder in tuna fish (or other strongly flavored food)
Cons
Many pills are bitter and may result in your cat refusing to eat his food
If you mix the crushed pill in his food, he may not get the full dose if he does not eat the entire portion
If your cat is on a restricted diet for, say, food allergies, avoid putting crushed pills in his food – you don't want him to develop an aversion to the one kind of food he can eat
If you need to give medication in food, choose a different food than the one your cat usually eats.

Limit the amount of this "doctored" food to about a teaspoon, so that you can be sure your cat gets his full dose of medication

Make sure your cat is hungry when he is offered the medication in food – you may need to pick food up several hours before giving medication.
Giving Your Cat a Pill "by Hand"
Often, you will get a demonstration of how to pill your cat at your vet. The accepted technique is to hold your cat's head like a baseball with your non-dominant hand, tilt his head back, gently open the lower jaw with your third finger, then pop the pill in as far back in the throat as possible with your index finger. Often, the vet team will recommend "massaging" your cat's throat to help him swallow the pill. IT IS A GOOD IDEA TO FOLLOW THE PILL WITH SOME FOOD, WATER OR TUNA JUICE.
This technique takes practice to master and a wily cat can still manage to gag and spit the pill back up! At the veterinary hospital giving a pill may seem to go smoothly – Please remember, the veterinary team pills cats frequently AND your cat is not in the comfort of his home.
Using a towel wrap when pilling
Does your cat like to snuggle? She may appreciate a towel wrap or a ThunderShirt when being medicated to make her feel more secure. A towel wrap is also helpful if your cat paws at your hands when you are giving the pill.
Test your cat's acceptance to these when NOT giving a pill. Your cat may struggle initially with towels or pressure wraps but should calm and STOP struggling. Count slowly to 5 – if she is still struggling at that time, these are not for her.
Giving Your Cat a Pill using a "Pet Piller"

Another technique to aid in giving oral medication to your cat is using a pill gun. A pill gun is a plastic tube with a plunger. The tip should be soft so that it does not cause any trauma to the throat when pilling.
Introduce your cat to the pill gun by letting her examine it and lick some baby food or other treat off the end. If she likes hard treats, see if she will take a treat from the pill gun.
Lubricate the tablet or capsule with petroleum jelly or butter.
Load the lubricated tablet into the pill gun.
Have some snacks ready for rewarding your cat after the pill is given.
Kneel down on the floor and gently snug your cat between your legs – this will keep him from backing up, away from the pill gun
Hold kitty's head gently and
gently guide the piller into the side of Kitty's mouth.
Depress the plunger to release the pill.
REWARD!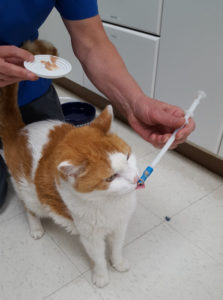 Offer Treats with the Pet Piller
---
Guide the Piller into the side of Kitty's mouth
---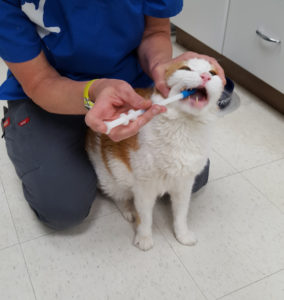 Work the Piller toward the back of the mouth and depress the plunger
---
Giving My Cat a Pill is Impossible!
If you are running into difficulties…Take a break and come back to giving the pill in 15 minutes or so.
Are there other treats you have not tried – "lickable treats" in tubes? Chicken baby food? Catnip or playtime?
Talk to your veterinary team – are there other forms of the medication? Some medications are effective as transdermal gels that can be applied to the inside of your cat's ear; other medications can compounded into flavored tablets or liquids or given by subcutaneous injection.
Make giving the pill a positive experience – have something good happen!