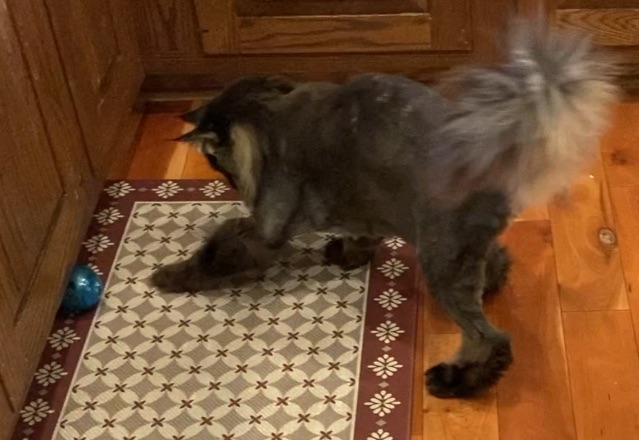 Your cat went in for her annual exam and your vet suggests that she lose some weight. Most likely, you were also given some daily calorie estimates and food amounts. Perhaps your vet recommended a weight loss food. What's next?
Three ways to help your cat lose weight:
portion control
feeding multiple small meals
keeping your cat moving
Portion Control
If you have not done this already, measure how much your cat is eating. Make sure to include treats and table scraps. If your cat is a grazer, put out a measured amount of food in the morning and measure what remains the next morning, 24 hours later.
Gradual weight loss is best. The rule of thumb is to cut your cat's food portion by no more than 10-20% at a time. Drastic food reduction can lead to a cat who is frantic for food, begging and sometimes biting you in his quest for food. It may take some time to reach the calorie allowance recommended by your vet.
The Behavior of Feeding: Multiple small meals daily
Now that you know how much to feed, let's look at how you feed. Cats have small stomachs; in the wild, they follow a nocturnal schedule, hunting and feeding about 4 times, starting in the late afternoon and finishing in the morning. In between hunts, the cats nap and groom; sometimes they play with the kittens.
Your cat is designed to eat multiple small meals a day. If your cat is a grazer, this is what she is doing and she may be fine with her portion set out in a bowl for the day. Other cats may want to eat everything at once, which can lead to GI upset and boredom. To help your cat lose weight, portion control can be done by using a timed feeder or you can follow a feeding schedule. Here is a sample schedule for a working owner feeding 4 meals a day.
AM before leaving for work – meal feed: canned or dry food
Day Time: food puzzles or feeders with dry or canned food
PM arrive home from work – meal feed: canned or dry food
Bedtime Snack: Treat Time – treat toss or training
Strategies for the Multi-Cat Household
Life is rarely simple – often you have one cat who needs to lose weight and a "skinny" one who is a "grazer".
Technology to the Rescue: Microchip feeders
SureFeed Microchip Pet Feeder: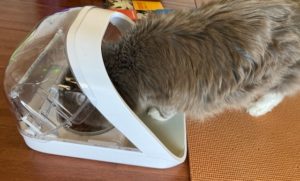 This plain vanilla feeder is ideal for grazers who tend limit themselves. The feeder is programmed to sense an individual cat's microchip and only opens for the particular cat. Put the "skinny" cat's food in the Surefeeder and the "fat" cat's food in a timed feeder or in bowls spread out through the house. The Surefeeder can also accommodate canned food.
Timed Microchip Feeders:
These feeders sense the tag on the pet's collar and allow a pet a certain amount of time to eat. Many of these feeders can accommodate more than one pet if they are eating the same food. However, some reviews note that a persistent pet will refuse to leave when the doors try to shut, keeping his head in the bowl and continuing to eat.
The Meowspace:
This is a ventilated transparent "box" with an access door. Some models have a microchip flap while others have a magnetic flap. The Meowspace also has a timed access option, allowing the cat to access the "space" only at certain times of the day.
The DIY version: You can make a "meow space" out of a closet by installing a microchip cat flap in the closet door. To add a "timed" option, place an inexpensive automatic feeder in the closet.
Low Tech Solutions to help your cat lose weight:
Some cats prefer to be up high while others are "ground dwellers". If this is the case, you can feed the cats who climb up high on a shelf, top of a bookcase, or on the upper level of a cat tree while the other cat eats at ground level. Another option is to meal feed and separate the cats in different rooms when feeding.
keeping your cat moving
In the wild, cats prowl around looking for food. You can mimic this behavior by placing portions of food in different places around the house. Your cat has to go look for it. This is the idea behind Doc & Phoebe's indoor hunting system.
Puzzle feeders also can also stimulate and engage your cat while feeding. Make sure to introduce your cat to his puzzle feeder gradually, increasing the food in the puzzle and decreasing his food in the bowl as he learns to use the puzzle feeder.
Using the indoor hunting system or puzzle feeders can be challenging in the multi-cat home: some cats will catch on more quickly than others, getting more to eat in the process. Indoor hunting and food puzzles may not be appropriate. In that case, help your cat lose weight by engaging him in a daily play session or taking him for a leash walk outside.
Treat Toss
If you are feeding dry food, you can make one of the meals a tossing game. Dental treats or dental kibbles are large and can be tossed for your cats to hunt down. Space the cats out so each cat has his own "territory" to hunt in and make the rounds, tossing the kibbles. This is also a great way for the cats to interact with guests, who usually enjoy tossing the treats to the eager felines!
Help your cat lose weight – reduce his risk of medical problems such as diabetes and arthritis, and form a closer relationship with your cat through daily play and exercise activities.
Want to keep up with the world of cats? Subscribe to The Feline Purrspective!