We want to feel good; we want our cats to feel good. Supplements that can be bought over the counter are popular. The claims are appealing – there are dietary supplements to make you feel happy, calm, or pain-free; there are also essential oils that make similar claims.
Supplements for Cats -Which Ones are Safe and Effective?
The Center for Veterinary Medicine (CVM) is a branch of the U.S. Food and Drug Administration (FDA). The CVM regulates food and drugs for animals. There is not a separate category for animal supplements – a supplement is either determined to be a food or a drug. If the product claims to treat or prevent disease, it is a drug.
There are many veterinary supplements available over the counter. Many of these supplements claim to treat medical conditions, for example, urinary tract infections, and are basically unapproved drugs.
An Unregulated Market
Unofficially, supplements for cats are treated like supplements for humans – they are not reviewed for safety, effectiveness or quality prior to being marketed. The active ingredient can vary among different supplement brands. If problems arise with one of these supplements while it is being sold, the FDA can take action against the manufacturer – this process would most likely take a long time.
The National Animal Supplement Counsel is a group of supplement manufacturers that is trying to regulate the safety of commercial supplements. They require their members to provide a certificate of analysis indicating potency, per-dosing unit, all ingredients and the presence of metals or pesticides.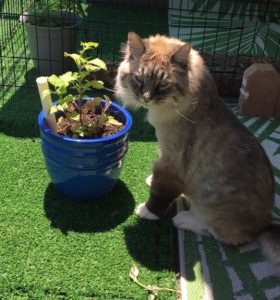 Herbal Supplements for Cats
Herbs like chamomile and lavender are touted as calming for humans. These herbs can actually be toxic to cats. There are few clinical studies showing any benefit of herbal infusions for cats. Even catnip is not 100% safe – if a cat eats too much of the herb, he can have vomiting and diarrhea. Do your homework with herbs and check their safety.
Essential Oils and Cats
Just because something is natural does not mean it may not be harmful. Essential oils can be found in diffusers and can also be applied topically. Many of these oils are actually toxic to cats.
Diffusers release droplets of these essential oils into the air. If your cat breathes in these toxic droplets, her lungs can become inflamed. She may cough, vomit or drool; her eyes may water. In some instances, your kitty can develop pneumonia.
Topical administration of essential oils also present risks due to toxicity and possible ingestion. Kitty can ingest the oil while grooming.
Human Drugs/Supplements – NOT for Cats!
Cats' DNA lacks certain genes that code for some of the enzymes that metabolize human drugs and supplements. Notable examples are aspirin, acetaminophen and ibuprofen.
The length of time a drug stays in your cat is different than how long it remains in your body – they are smaller and have a gastrointestinal tract that is different than ours.

Dietary Supplements for Cats
There are lots of supplements on the market meant for cats to take by mouth.
If you are feeding a high-quality cat food, supplementation with vitamins and minerals is most likely unnecessary.
Other popular supplements for cats include fatty acids for skin/haircoat and joint support, such as glucosamine.
While most of these supplements are safe, consult your veterinarian regarding which supplement to buy and how much to give.
Choosing a Supplement for Your Cat – An Example
What do you need the supplement to do?
Make an older cat with arthritis more comfortable.
Are there any environmental changes that can help?
Clinical studies for this supplement?
Few clinical studies for cats – some studies in dogs
What form is the supplement? Will you be able to give it easily?
Glucosamine and Green Lipped Mussel come in capsules and chews; Adequan is an injection that is approved for dogs that can be used in cats
Side effects? Other concerns?
Arthritis supplements may effect how long it takes for your cat's blood to clot – they must be dosed properly.
If your cat is overweight, losing weight can reduce the load on her joints.
Is your cat on any prescription drugs? Are there any interactions with these and the supplement?
Your veterinary team is your primary resource when navigating the stormy sea of supplements. Your veterinarian can recommend a supplement if your cat needs one, advise you of possible side effects and monitor your cat while taking the supplement.
If you are concerned about the feline expertise of a veterinary practice, consider choosing one of the American Association of Feline Practitioners' Cat Friendly Practices.