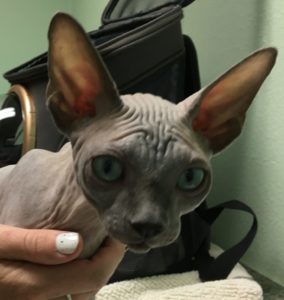 Did you know that 10-20% of the world's human population is allergic to cats (1)? Symptoms range from itchy eyes, stuffy nose, and sneezing to skin rashes and hives. More serious reactions may include asthma and difficulty breathing. Over the counter medications can relieve some but not all of the discomfort and these medications are not without side-effects. Are there other ways to manage these allergies?
This post is an update of one published about 1 year ago. I felt it was worthwhile to bring people's attention to the subject again.
Allergies and the cat-human bond
Allergies can come between you and your cat. You are miserable around your cat when your allergies flare up.
You start to avoid your cat.
He is outlawed from the bedroom.
His needs, particularly consistent human interaction and interactive play, are not being met.
Not only are you feeling bad, but your cat can become stressed.
Stress can lead to medical problems such as diarrhea, and resurgence of viruses such as herpes.
It is not unheard of for people allergic to cats to re-home their beloved pets.
The Culprit
A protein called Fel d1 is the primary allergen in cats.
Fel d1 causes 95% of the allergy responses in adults allergic to cats.
Fel d1 is produced in the cat's salivary and sebaceous glands.
Your cat spreads Fel d1 through his fur as he grooms.
As he sheds fur and skin (dander), Fel d1 is distributed throughout your home.
Breathing in dander or having contact with it can trigger an allergic reaction.
Fel d1 is light, easily airborne and can be found just about everywhere, even in pet-free homes and institutions such as schools. Usually these levels are low and do not impact people in general. Fel d1 may be spread by the clothing of people who keep cats (1).

Managing Cat Allergies
REDUCING FEL D1 IN YOUR HOME
Here are some things you can do:
Fur tends to "stick" more to fabrics – vacuum upholstery and carpets frequently.
Consider switching out carpet for hardwood or vinyl floors.
Use covers that you can launder on sofas and upholstered chairs.
HEPA air filters and HEPA vacuum filters can also help.
Clean regularly and frequently.
REDUCING FEL D1 ON YOUR CAT
Not all cats shed Fel D-1 at the same rate. Even an individual cat does not always shed the same amount of this protein at any given time – instead it varies throughout the year.
NO HYPOALLERGENIC CATS
Some folks think that certain breeds of cat don't produce much Fel d1. These cats typically do not shed much. It is thought that the reduction in the amount of hair reduces the amount of Fel d1 in the environment.
However, Fel d1 is mainly produced in the sebaceous glands in the skin and in the cat's saliva, not in the hair. So even a "bald" Sphynx will still groom and spread dander that has sebaceous secretions containing Fel d1 (1)
BATHING YOUR CAT
Bathing your cat does reduce the amount of Fel d1 but levels return to pre-bath amounts within 2 days (2). Of course, many cats do not tolerate being bathed. There is a mousse shampoo designed to reduce Fel d1 – this may be better accepted by cats than a traditional soap and water bath.
"NEUTRALIZING" FEL D1
Fel d1 like most allergens, has a chemical "key" that locks into receptors on cells in our bodies. What if you "lock up" Fel d1 before it gets to us?
Chickens produce antibodies against environmental antigens that they can transfer into their eggs and give their chicks immunity against these antigens. Researchers at Nestle-Purina developed an "anti-Fel d1" antibody by exposing hens to Fel d1. This antibody is incorporated into the dry cat food, Purina "Live Clear" .
How it works:
A cat eats food containing eggs from these hens.
The "anti-Fel d1" antibody "locks up" active Fel d1 in the cat's saliva.
When the cat grooms himself, he spreads the "locked up" or neutralized Fel d1 on his fur. He probably also spreads some of the "anti-Fel d1" antibody, which further neutralizes some of the allergen produced by the sebaceous glands of the skin.
Studies show that active Fel d1 is reduced by an average of 47% after 3 weeks of feeding.
Although not a perfect solution, feeding this diet may just help reduce the allergen burden enough to make you, and consequently your cat, more comfortable.
WHAT DOES THE FUTURE HOLD FOR THOSE OF US ALLERGIC TO CATS?
HUMAN-DIRECTED THERAPIES
"Anti–Fel d 1" monoclonal antibodies are being developed that can be given by injection under the skin to humans allergic to cats. Preliminary studies showed a 60% reduction in symptoms in half of the patients. (2)
CAT-DIRECTED THERAPIES
Saiba Animal Health is developing a vaccine that triggers an immune response in the cat's own body to develop antibodies to Fel d1. "Hypo-Cat" showed a 50% reduction in Fel d 1 levels detected in cat tear extracts, decreasing symptoms in nine allergic patients by about 30%. (2)
Other research is using CRISPR (gene-editing) technology to delete the genes responsible for producing Fel d1, with the aim of producing a truly hypo-allergenic cat. (2)
closing thoughts
The function of Fel d1 is unknown – this protein is only found in the cat family. Some experts feel it is a pheromone (3)– a chemical used to communicate between members of the same species.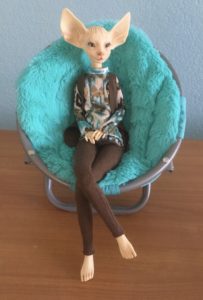 This raises some questions:
What message does Fel d1 carry between cats?
Is it ethical to modify the feline genome to breed cats that don't produce Fel d1?
How will we be changing our cats when we do this?
Happy Halloween and Subscribe to The Feline Purrspective!
Sources
Bonnet, B., Messaoudi, K., Jacomet, F. et al. An update on molecular cat allergens: Fel d 1 and what else? Chapter 1: Fel d 1, the major cat allergen. Allergy Asthma Clin Immunol 14, 14 (2018). https://doi.org/10.1186/s13223-018-0239-8
Nicole F. Brackett, Brian W. Davis, Mazhar Adli, Anna Pomés, and Martin D. Chapman.Evolutionary Biology and Gene Editing of Cat Allergen, Fel d 1.The CRISPR Journal.Apr 2022.213-223.
Bienboire-Frosini, C.; Durairaj, R.; Pelosi, P.; Pageat, P. The Major Cat Allergen Fel d 1 Binds Steroid and Fatty Acid Semiochemicals: A Combined In Silico and In Vitro Study. Int. J. Mol. Sci. 2020, 21, 1365. https://doi.org/10.3390/ijms21041365