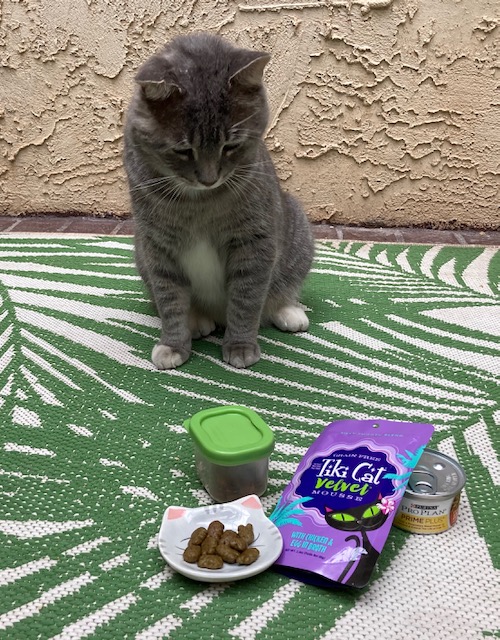 What should you feed your cat – wet food? dry food? a mixture?
A diet for your cat – wet or dry must be balanced and nutritious. Dry cat food is convenient and less costly than wet foods. It can be left out without as much concern for spoilage. You don't have to be home to feed your cat. But will your cat drink enough water? How do wet and dry foods compare with regard to providing your cat enough protein and not too many calories?
Choosing a diet for your cat – wet or dry?
moisture
A wild cat gets most of his moisture from the prey he eats. He typically consumes the entire animal, including the fur and gut contents and eats the equivalent of 6-10 mice a day.
Wet cat foods typically contain 80% moisture by weight. Dry foods are closer to 10% by weight. Cats eating a dry diet must supplement their diet by drinking water.
Let's look at the moisture some typical foods would offer a 10 lb cat eating 200 kcal daily.
| | | | | |
| --- | --- | --- | --- | --- |
| | Food 1 (wet) | Food 2 (wet) | Food 3 (dry) | Food 4 (dry) |
| Moisture (%) | 78 | 80 | 12 | 12 |
| Metabolizable Energy (kcal/kg) | 942 | 700 | 4342 | 3770 |
| Cat's weight (lbs) | 10 | 10 | 10 | 10 |
| Amount of food daily (g) | 212 | 285 | 46 | 53 |
| Moisture from food ( ml) | 165 | 228 | 5.5 | 6.4 |
| Moisture in food (ounces) | 5.6 | 7.7 | 0.19 | 0.22 |
This table shows how much moisture (water) our cat will get by eating 200 kcal of each of these foods. The wet foods provide about 6-8 oz daily where the dry foods provide a fraction of that.
but my cat drinks plenty of water…
Cats should drink about 4 ounces of water per five pounds of lean body weight daily. Our 10 pound cat needs to drink about one cup of water per day. If he does not drink enough, he may become constipated or risk having urinary crystals. If he eats the wet diet, he will get most of this water in his food.
But, you say, my cat drinks plenty of water. She is at the water bowl frequently. Cats don't scoop water up with their tongues, instead when the curled-back tip of the tongue touches the water surface, a thin column of liquid is drawn up into the mouth. That column of water is about 3/100 of a teaspoon. A lot of lapping is needed to reach 1 cup of water daily.
If your cat's stools tend to be hard or her skin around her shoulders doesn't snap back quickly when you tent it, you may want to encourage her to drink more or add some canned food to her diet.
choosing a diet for your cat – wet or dry: protein
A diet for your cat -wet or dry should provide your cat with enough protein to maintain Lean Body Mass (LBM).
If you compare foods on a dry matter basis (removing all the water), protein content can look similar, at 40-50%. Wet foods, however, often have a higher protein/energy ratio – they deliver more protein per 100 kcal than dry cat foods. The carbohydrate needed to process the dry foods may be the culprit here – the amount of protein is diluted by the additional calories provided by the carbohydrate.
In this chart, you can see that our 10 lb cat will more than satisfy his LBM protein requirements with 200 kcal of Food 2; he will be close with Food 1. The two dry foods require 230-240 kcal to provide enough protein to satisfy the LBM . These additional calories could result in weight gain. (These calculations are done on an "as-fed" basis using the Atwater equation).
| | | | | |
| --- | --- | --- | --- | --- |
| | Food 1 (wet) | Food 2 (wet) | Food 3 (dry) | Food 4 (dry) |
| Metabolizable Energy(kcal/kg) | 942 | 700 | 4342 | 3770 |
| Protein (g/100 kcal) | 10.6 | 15.7 | 9.7 | 10 |
| Cat's weight (lbs) | 10 | 10 | 10 | 10 |
| Protein for LBM | 23 | 23 | 23 | 23 |
| Calories Needed to Satisfy LBM (kcal) | 216 | 146 | 237 | 230 |
a diet for your cat – wet or dry: calories
Dry cat foods tend to be more "calorie dense" than the canned foods. The dry foods in the table have over 4 x the amount of kilocalories per kg of food of the wet foods. Dry food is concentrated – a small amount has a lot of calories. A bored cat can easily eat too much and put on weight. The water in the wet foods tends to fill our cats up and give them a feeling of satiety.
choosing a diet for your cat – wet or dry?
A lot boils down to your cat's preferences. Both dry and wet diets provide balanced nutrition but wet foods provide your cat with
water
higher protein/energy
lower calorie meal plan
a compromise: wet and dry
If your cat will eat wet and dry, consider a combination feeding program. Here is one where your cat gets two wet meals that are supplemented with tasty dry food in between in food puzzles, as training treats, or in a treat toss game. The two wet meals can go a long way to providing your cat with moisture and protein to maintain LBM.
Breakfast: wet meal
Day Time: food puzzles or feeders with dry food
Dinner: wet meal
My cat refuses wet foods
Some cat prefer dry food. Why?
Food preferences are established when cats are kittens. They eat what their mother eats.
If the kittens do not eat wet foods at weaning and the first few months afterwards, they will often refuse to eat them later.
This can be a problem when cats become older and wet food can help manage medical conditions, such as kidney disease. (Reference 1)
The pet food industry works hard to make those kibbles appealing to cats. Not only is there the texture or "mouth feel", the kibbles are often sprayed with protein hydrolysates or "digest" to increase palatablity. Soy sauce is an example of protein hydrolysates used to enhance the taste of foods for humans. (Reference 2)

for dry food addicts only…
Make sure to hydrate your cat – try water from tuna, water used to poach chicken or fish (offer alone, add to the water bowl, or try frozen in an ice cube tray and added to the water bowl) (Reference 3)
Try some of the high protein, low calorie (low fat, low carb) dry diets.
Try moistening your cat's kibble with low-sodium chicken broth.
Try mixing some canned food with your cat's dry. Start with a small amount and increase if she accepts it.
references
Zoran, Debra. "Feline Nutrition: Understanding How to Feed Cats for Obesity Prevention and Weight Management", dvm360.com, 11/10/13
Ahmet Yavuz Pekela, Serkan BarışMülazımoğlub and Nüket Acar(2020) "Taste preferences and diet palatability in cats," Journal of Applied Animal Research, 48:1, 281-292, DOI:10.1080/09712119.2020.1786391
Caney, S., Gunn-Moore, D.

Caring for a cat with lower urinary tract disease

, Cat Professional 2011, www.catprofessional.com, p. 45